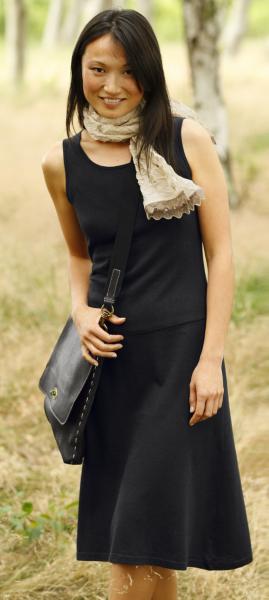 A girlfriend and I went out to the end of Long Island for a few days of beach R&R in July. However, it was blistering hot and we spent more time shopping in the area's cute, air-conditioned boutiques than at the beach. We found some great scarves at
Summer Girl

,
an adorable, eclectic shop in New Suffolk (if you happen to be at the end of L.I.). My friend was keen on buying two, but asked, "How do I wear them?" I could only offer a few very basic knotting and tying techniques. Since scarves are a "no brainer" for women over 50, I decided to investigate scarf tying when I got home.
I rummaged around the web and found
Texere Silk
, a scarf designer. Scroll down for sketches of many different scarf knotting styles. The site also offers a few unique hand-painted scarves.
I also visited one of my favorite blogs—
Une femme d'un certain age
—which is directed at women over 50. Sure enough, there is a wonderful archive of scarf postings, including many scarves modeled by the blog's author, I presume. Start with
Scarfing It Up
and keep scrolling…and scrolling. You'll find lots of pretty scarves and tips on how to wear them.
Scarves and wraps are the perfect accessory for women over 50—they add color and sophistication to whatever we're wearing. They "save our necks" when we want to wear a round-neck or open-neck top, but don't want total neck exposure. They also offer a lovely distraction, drawing the observing eye away from our less-than-flattering body parts. My personal opinion: they're a much better distraction than huge pieces of jewelry.
However, I'm not a fan of all scarves or all the ways of tying them. A woman I work with has been spotted wearing silk triangles with the tips either draped loose over her shoulders or with the very tips of the scarf tied in a simple knot. I know her goal is to add color and "interest" to a plain man-tailor blouse or cashmere sweater set. However, beware: the result may be matronly, or, perhaps, Eagle Scout-esque.
The last thing I'll say about scarves and wraps: I love the variety. There are so many different styles and fabrics to choose from--something for every mood and to flatter every skin tone. Just check out the offerings at
Zappos
and I think you'll see what I mean.
Banana Republic
has a nice collection of reasonably price scarves. However, if you aren't a scarf owner currently, you might want to
test the waters
with a scarf from
Target
.
Below are a few more scarf samples.
The

Pure Silk Scarf
at the top of this post is from
Hessanatur
. The organic clothing company also has the following scarves: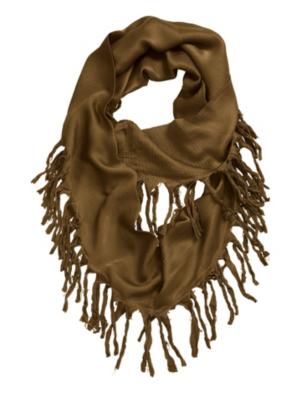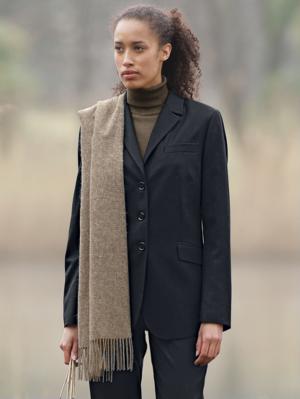 Anne Klein
has a few wraps like the

The Classic Wrap
below. It comes in a variety of colors for $21.99.
The

Crinkle Wrap, Ships 5/10
below is from
Jones New York
and is available for $34.00.
This
Classic Wrap
from JNY shows how the right color can really make a simple black sheath pop.