Editor's Note:
Looking for the latest swimsuit styles? Take a peek at my recent post, entitled, 2015 Swimsuits: 14 Trends and Where to Shop.
Whether you're planning an escape from the snow and ice or considering a new swimsuit for the summer season, you'll find lots of flattering designs for women over 50. Don't be discouraged by some of the more revealing 2014 styles—cut-outs and peek-a-boo macramé, lace or crocheting. There are subtle and sophisticated trends as well. What's more, swimsuit designers are taking advantage of all the latest fabrics that slim, flatten and conceal the body. Take, for instance, the
Longitude Blue Fabulous Surplice Swimsuit
(above) with built-in tummy control. Pssst! You can
Take up to 30% off June 2014 new arrivals at swimsuitsforall.com
now through July 5, 2014.
Here's a look at some of my other favorite new swimsuit styles. I've yet to find a site showing over 50 women modeling swimsuits, but I've tried to use photos of bathing suits on women of average weight as much as possible. Warning: There are a few waifs.
DRAPING, RUFFLES AND SHIRRING
I found these next two tankinis tops at Nordstroms. I love the soft flowing fabric, which gives a gal some breathing room. I think both styles would look great with swim shorts. By the by, one of the trends this summer is to mix and match your swim tops and bottoms. Here's draped swimsuit style...
I don't think ruffles are going to go out of style any time soon. I love the vibrant blue of this
Magicsuit Blue Jasmine Corynne Tankini Top (Blue) Women's Swimwear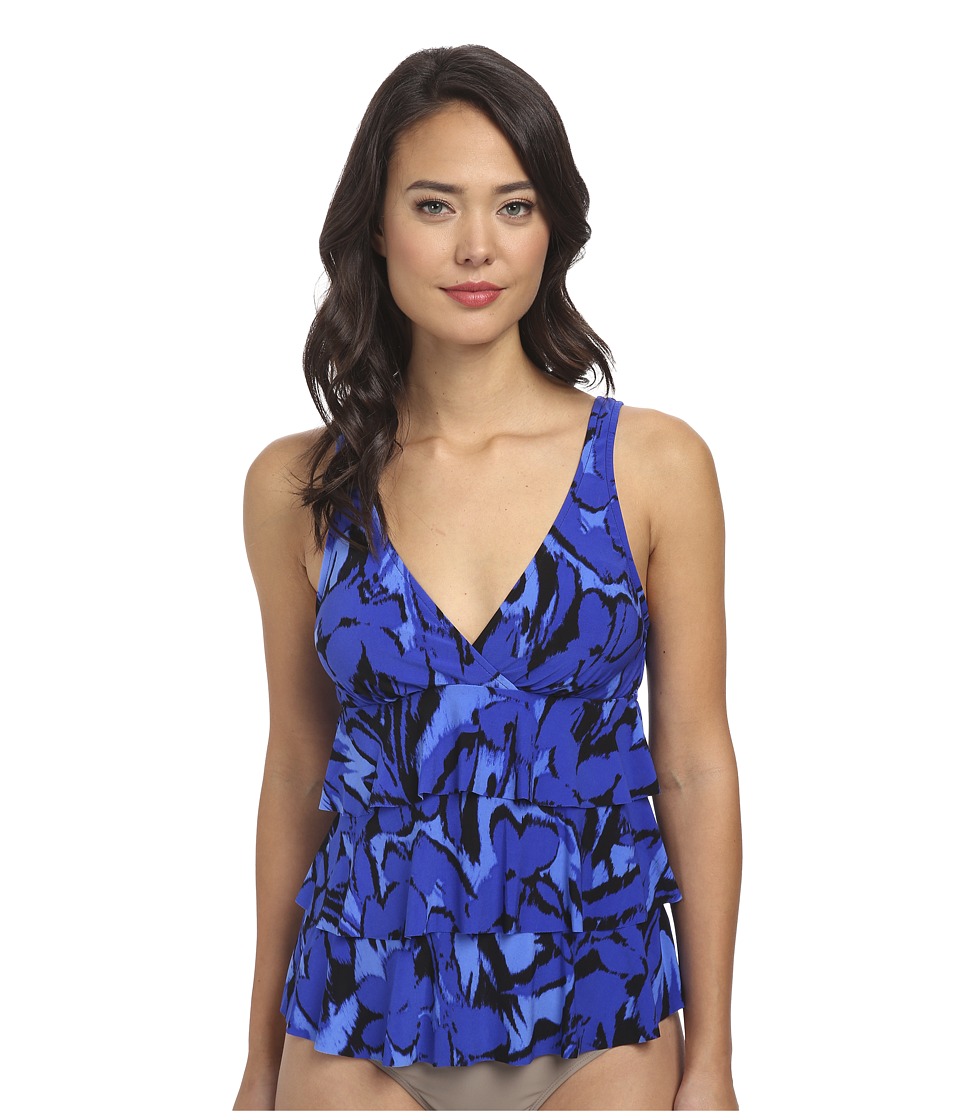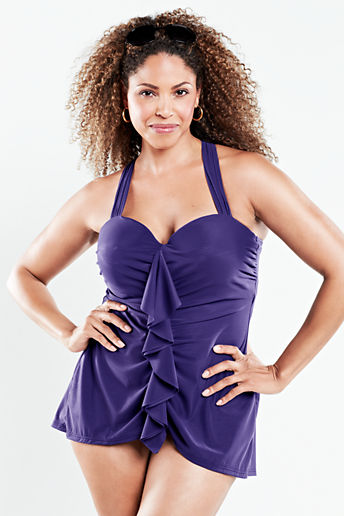 Swimsuits with a monochromatic color scheme is another trend this season. Here's one with flattering shirring...
HARDWARE
Want to be on the cutting edge of swimsuit fashion this summer? Bathsuits with hardware--buckles, rings--are making a splash, if you will, this season...
TEXTURED
Texture has been a fashion buzz word the last few years, so it's not surprising to see textured swimsuits popping up this season. Here's a textured one-piece from Land's End.
THE SPORTING LIFE
Streamlined, athletic swimsuits are a hot trend. Here's one with colorblocking...
BLACK, WHITE AND GREY PRINTS
Prints are a great way to conceal little lumps and bumps. Polka dots never seem to go out of style...
I'm also seeing a lot of swimsuits with black, white and grey prints. Here's a
Shore Club Moonstruck Plus Size Tie Front Tankini Top
modeled with a pair of shorts.
GARDEN DELIGHTS
Lush floral or leafy prints seem to be a perennial swimsuit favorite. There are so many great looking swimdresses these days...
For the lucky woman over 50 who is fit and trim, there are some gorgeous one-piece floral prints as well...
ANIMAL PRINTS
And, finally, swimwear with animal prints are as hot as ever. My preference is for the animal print tankini tops paired with a black bottom. A little animal print goes a long way.
I'd love to know...
What's your favorite swimwear style?