Editor's Note:
This post was updated in

January 2014

. For up-to-the-minute sales, take a peek at my On Sale page.
Last Saturday night, I was with a very attractive, statuesque over 50 woman who was dressed in black leggings. I'm going to call this woman "Louise." Louise is a successful human resources executive at a large corporation and lives in New York City. Not surprisingly, on the weekends, she likes to shed her suits and pumps and dress casually. On Saturday, Louise and her husband went with my husband and me to listen to music. Louise wore leggings with an oversize black T-shirt, wide belt and tall shearling-lined boots. And I thought: "The T-shirt and leggings look doesn't even work for someone tall and trim like Louise!" And it made me wonder: What is a good leggings look for women over 50?
TEMPTING TUNICS
Instead of the oversize T-shirts, I like tunics with leggings, jeggings and skinny jeans. They have a little more structure, tend to be more feminine and, generally speaking, are flattering for women over 50. Check out 62-year-old
Vera Wang
at the recent Elle Magazine 25th Anniversary party. She looks rockin' in her black and gray minimal V-neck tunic and leather booties.
Now check out
Diane Von Furstenberg
at Elle Magazine's 25th Anniversary party. I'm not sure what's going on with the feathers. But I love the romantic styling—open neckline, light fluttery fabric—of this tunic. This is a sleeveless top, which Diane has paired with a light-weight black sweater, avoiding a bulky look. You don't want the tunic to be too boxy or bulky. In truth, I think Diane may be wearing skinny jeans. But her stylish top will look good with leggings as well. If Diane, age 64, can look smashing in a tunic, 50-something women with a similar shape will, too.
SHOPPING TUNICS
Here's a
mere
sample of the many reasonably-priced tunics at
Soft Surroundings
.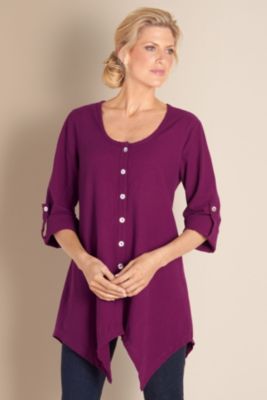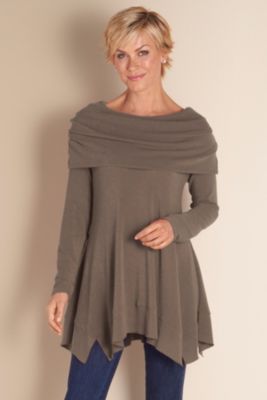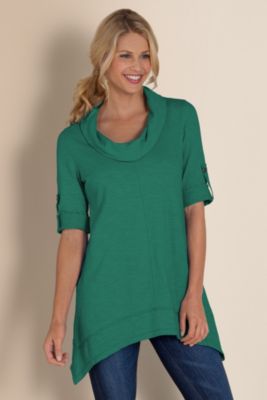 SWEATER SAFETY
Long sweaters or knit jackets over a lightweight top or tunic is always a safe bet for leggings. In my mind, the goal is to cover your bottom as well as some of the thighs. Here are a few sweaters of different lengths.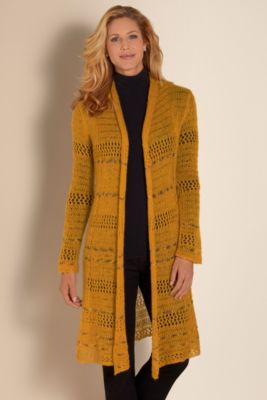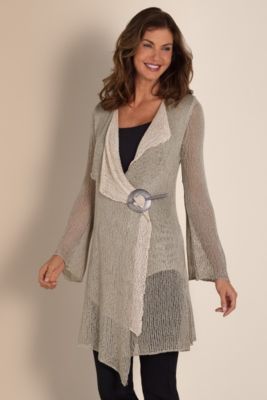 LOTS OF LEGGINGS
Basic black leggings, like these
Old Navy Womens Jersey Leggings - Black jack
($14.50) are everywhere. It's just a matter of finding the right price, color, quality and size. If you're not sure whether leggings are right for you, you might want to start with an inexpensive pair from Old Navy. That's what I did. Leggings also come in Capri styles, like the ones from Danskin below.
One of my over 50 girlfriends swears her jeggings (jean leggings) are the most comfortable jeans she's ever owned (sorry, I don't know the designer) . I decided to try the Old Navy version, again because I was "testing the water" with jeggings. I have to say the
Old Navy Womens The Rock Star Super-Skinny Denim Leggings
are super comfortable. They do stretch out between washing, but return to shape after washing. I've got them in black and denim blue.