Recently, a
Flattering50
reader emailed and said, "I need ideas for casual dressing. What to wear on Saturdays other than jeans?" I had to smile because I struggled with the casual dressing over 50 dilemma last fall. My wardrobe consisted largely of office clothes or yard work clothes. I really had nothing in-between. One night, my husband and I were having dinner with friends before a concert. It was a Tuesday night and I'd run home after work to change out of my skirt and blazer and into a skirt and cashmere sweater--my "dressed down" look. At dinner, a male friend said to me: "I guess you came straight from work." For some reason, the innocent comment was a style wake up call. It was time to invest in a few garments for casual activities.
SIX SAVING SEPARATES
There are any number of ways a woman over 50 might approach the task of creating a casual wardrobe. For me, the first step was to decide what was the minimal number of garments that would give me a few casual outfits to start with. I figured if I had a few basic pieces, I could branch out later. The magic number for me was six.
My Six Saving Separates
are...
1 Casual Jacket
1 Cardigan in a muted color
2 Tops
2 Bottoms
Once I had my wish list, I thought about what type of garments I wanted to wear. What kind of jacket or top would make a nice casual look? Basically, I had one requirement: It's got to be something I would never wear to work.
A CASUAL JACKET
I know there are casual-looking blazers, but I was afraid they would still remind me of work. Instead, I considered a jean jacket, leather jacket, or a stylish Anorak. For this post, I'm showing my jean jacket. It goes with some many weekend looks. I also love the fact that it's wash and wear--super easy. In fact, I'm such a fan of jean jackets that I have a white one for cooler summer evenings.
While I love jean jackets, I know they aren't for all women. Another possibility, especially for spring and summer, is a relaxed knit jacket, like the one below from
Territory Ahead
. It's also washable and I love the length (29"). It works well with casual pencil skirts, slacks and jeans...
A CARDIGAN IN MUTED COLOR
I'm one of those over 50 women who wears sweaters all year round. (In summer, I'm driven crazy by air conditioning.) So a basic cardigan is a
must
for my casual wardrobe. If you're warm all the time, you might just need a jacket or a cardigan for your basic casual wardrobe. Then, you can add a third top and have more mix and match possibilities.
A simple cardigan in a muted color is great for mixing and matching. The style is a matter of personal taste. For my basic casual wardrobe, I've chosen a long, boyfriend-style
Banana Republic
sweater. It's simple, lightweight, and the grey color goes with just about everything. It's also a piece I'm unlikely to wear to the office.
TWO TOPS
As with the jacket and cardigan, I wanted two tops that didn't shout, "Get back to work!" Personally, I would never wear a tunic to work, so that was an easy pick. However, I'm not crazy about my thighs, so I wanted a long tunic or short dress that ended below my thighs. I love the slits on the side of my tunic. BCBG Max Azria showed a bunch of long tunics with slits in the fall 2013 collection during the New York Fashion Week last month. The tunics were styled with leather leg warmers. I think I'll stick with my skinny jeans for now.
Here's another photo of my long tunic...
In my mind, lightweight tunics--long or short--are a year-round top. In the summertime you can wear them with white ankle cropped jeans. You'll find reasonable priced traditional tunics in a soft handkerchief cotton at Indian or Middle Eastern import shops.
You'll also find tunics in trendy prints and colors at most women's clothing sites. For example, here's a
Free People Womens Border Print Dropwaist Tunic
(below). Free People has a nice selection of casual tunics and long shirts. I love the lightweight, soft materials the band uses. Layer with a tank top and you're all set.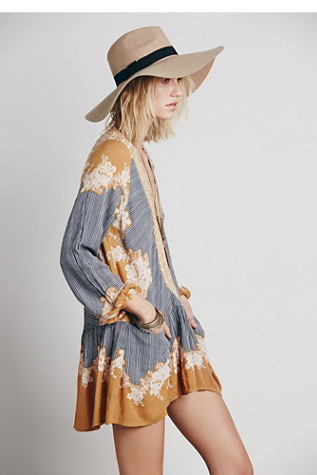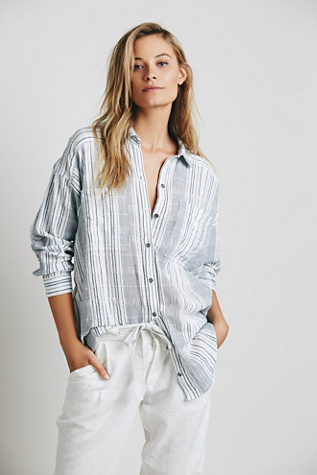 For my second top, I chose a dark pink v-neck T-shirt with 3/4 sleeves. During the work week, I tend to wear very structured, tailored clothing--suits, pencil skirts, crisp cotton shirts. On the weekend, soft clothes are a must. For instance, I like T-shirts in soft Supima and Pima cottons. I also have several
Covered Perfectly
tops like the one below. These tops are both super soft and longer than most T-shirts.
Beth is wearing a Simple Comfort top in soft and natural MicroModal fabric.
TWO BOTTOMS
Some women over 50 I know only wear slacks and others only wear skirts. Depending on your preference, you might buy two skirts or two pairs of slack or one of each. The secret to casual slacks is finding a pair that feels comfortable (I like a little stretch) and is flattering. For this post, I'm modeling a pair of stretch skinny black jeans that are so comfortable I feel like I'm in pajamas. As for skirts, I like ones that are a little roomy--like flare or A-line skirts. I also look for skirt elements--material, pattern--that I wouldn't wear to the office. For this post, I'm modeling a new Max Studio skirt in a jersey fabric--super comfortable.
By the by, I'm a huge fan of colored tights with skirts for casual dressing. In fact, I wear tights from September through May. They're fun and a great cover up for my over 50 knees!
For tunics and T-shirts, straight slacks or skinny jeans look really good. But a good friend of mine says her calves don't look good in pants with skinny or tapered legs. Not to worry. There are tons of sites to help you find the best jean style for your body shape. Just google "best jeans for body shape." If you're like my
Flattering50
reader and don't want to wear jeans for casual activities, there is a pretty good tool to help you find your best pants style on the
Glamour
magazine website. The tool,
How to Find the Best Pants for Your Body Shape?
uses young models, but their body shapes are realistic.
Meanwhile, take a peek at all the lovely colors in slacks and jeans this spring. I love the yellow ones above in the Land's End T-shirt photo above. If you've got good legs, I would highly recommend looking at bright colored slacks. Pssst! Jones New York has a gorgeous pair or orange straight jeans with slimming effect on sale right now. Their available in regular and plus sizes.
THE OFF-BALANCING ACT
Weekend dressing is a great time to experiment with color, prints and styles. In today's fashion world, stylish women look a little off-balance. Many of us were trained by our mothers to wear separates and accessories that match. If your skirt had a blue and green print, your top should be blue or green, your shoes should be blue or green, and so forth. Today, that sort of garment coordination is totally "old school." Women over 50 who avoid hardcore coordination look much better in my opinion. Dressing a little off-balanced makes a woman look playful, energized, and ready for new experiences.
It's easy to push the coordination envelop without looking clownish. My basic three rules:
Rule #1: Wear different colors with similar brightness.
In the sample collection at the top of the post, I include a dark blue-green v-neck T and a skirt with a black and pastel green print. The dark T-shirt and the black are the same brightness, so they don't clash.
For my six casual pieces, I've picked a dark pink T-shirt and a emerald, black and grey skirt. The pink is a similar brightness to the emerald.
Rule #2: Make sure the

outfit's volume is

balanced

.
This may sound like a contradiction, but when you're trying an "off-balance" of color, pattern and/or style, it's important to anchor the look with balanced volume. That is...If you wear something with volume (say, a loose tunic), then you should wear something tailored (less volume) on the bottom (straight pants or skinny slacks).
Rule #3: If you wear layers, try wearing ones that are different lengths.
I'm starting to see tops with exaggerated tails around New York City. The long tails are hanging below short jackets. It's a look I think is going to gain momentum next fall. So...I've been inspired to wear my long sweater under my jean jacket. Varying lengths is also a great strategy for drawing attention away from problem areas, such as the stomach or hips or thighs.
Plus...I know when I wear a layered look (like the one below), my male friend isn't going to ask, "Did you come straight from work?"
ANYWAY..
.For the present, those are my ideas on casual dressing over 50. I would love to hear from you. What pieces or combination of pieces work for your casual look?