Editor's Note:
This post was updated in January 2015. For up-to-the-minute sales, take a peek at my On Sale page.
Here's my list of favorite flattering dress styles for women over 50. Of course, not all designs will be perfect for every over 50 body shape or every over 50 personality. There's a lot that is debatable. The debate over whether or not sleeveless is appropriate on women over 50 continues. My feeling: There is no one set of arms over 50. If you feel comfortable in sleeveless, go sleeveless.If, on the other hand, your sleeveless days are over, you might want to take a peek at my dresses with sleeves shopping page for more ideas.
This post first appeared in May 2011. I asked readers to tell me which dress styles they liked and which they'd never wear. I've appreciated the feedback
immensely
. It's clear that women over 50 are longing for the fashion world to start showing apparel on older models of average weight. I wonder if that will ever happen. I hope so.
In the meantime, I've gathered some photos of dresses on over 50 women (mostly me, I'm afraid) and added some possible shopping resources. Let me know what you think and where you like to shop for dresses. Thanks!
#1: THE WRAP
The wrap dress, which turned 40 this past year, is a near-perfect dress design for women over 50. I love it because it's ultra- feminine and super comfortable, and it flatters a lot of different body shapes. The V-neck and draping above the waist, draws attention away from the tummy and hips. Some of my favorite wrap dresses have three-quarter sleeves and a print. At the top of this post, I am wearing one of my favorite wrap dresses by the now (sadly) defunct Coldwater Creek. The wrap's lightweight jersey material makes it a comfortable choice for most of the year.
Where to Shop...
Nordstrom
~ Designer
Diane von Furstenberg
, who made the wrap dress famous and is a style icons for 'women of a certain age,' has a line of wrap dresses in gorgeous prints. If you have your heart set on a DVF wrap, take a peek at
Women's Diane von Furstenberg 'New Julian Two' Print Silk Jersey Wrap Dress
($398) Dress length = 38 3/4".
Or...for a wrap dress at a more
earthly
price, here's a sample of dress with moderate to low price tags...
# 2: THE SHEATH
Vogue editor-in-chief
Anna Wintour
, 65, wears sleeveless sheaths. I figure if sleeveless sheath is good enough for Anna, it's good enough for any women over 50--as long as she's comfortable with her arms. Although I love the streamlined look of a simple sleeveless sheath, I must admit I'm wearing them less and less as my post-50 years speed on. Or rather, I'm wearing them more and more with the addition of a coverup--a little jacket or a sheer sweater or shawl. Above is an over 50 girlfriend of mine wearing a sheath with a lovely sequin jacket. I think she looks smashing!
Where to Shop...
Where to shop for a sheath? Just about everywhere! My favorite sheaths for women over 50 have a print, lace or pattern. A pattern is a great way to hide lumps or bumps. For example...
#3: THE FIT AND FLARE DRESS
The Fit and Flare dress exploded on the fashion scene in 2014. Women of all ages were seen wearing them. I love the Fit and Flare dress style because it flatters the pear-shaped body. That is, it is fitted on top, where I'm smaller, and flares at my wider bottom half. Below, I'm wearing a
Banana Republic
dress that's a few years old. The dress is sleeveless, so I often wear it with a favorite lace top.
Where to Shop...
Since the Fit and Flare dress is so popular, just about every dress company is offering them. Below are a few dresses from a variety of shopping sources. Note: Banana Republic in Regular dress sizes tend to be short, which is great for me (I'm a petite) because I don't have to get them hemmed. However, for those who need a longer hem, the Tall dress sizes average 37".
#4: COLOR BLOCKED DRESS
Yes, I'm a
huge
fan of color block dresses for women over 50. Color block designs vary tremendously and some are more flattering than others. I'm partial to the ones with dark vertical panels on the sides because they make a woman look slimmer. For those who want to "dip their toe" in something color blocking, a black dress with a white collar, like the one below, is a nice choice and wonderfully retro.
Where to Shop...
Color blocked dresses aren't as easy to find on the web as the other dress styles mentioned so far. Your best bet is to check out the large department store sites that carry colored block dresses by dinner clothing makers. Here's a few to get you started...
#5: THE V-NECK DRESS
At 50+, I want to draw attention away from my jawline, which, sadly, is starting to sag. A V-neck dress offers a slight distraction and is very feminine for women over 50.
I am in a jersey dress with a v-neck and an empire waist. It was feminine and ultra-comfortable choice for a dinner cruise on the Seine, celebrating my wedding anniversary.
Where to Shop...
There's a wide variety of dresses with V-necks, as I'm sure you can imagine.
#6: THE LITTLE BLACK DRESS
At our age, too much black may be too harsh or severe looking. Sometimes, but not always. I see plenty of over 50 women, like the one below, who look quite elegant in a basic black dress. And I love the 3/4 sleeves. Still not convinced? Try adding a colorful scarf or statement necklace or jacket for a pop of color.
Where to Shop...
I have a sleeveless black sheath with black sequins that is a lifesaver when I have to pull together something for a dress-up occasion. I highly recommend a LBD--it solves so many "what to wear?" dilemmas. Like so many of the dress styles mentioned so far, a LBD is everywhere. It's just a matter of finding the one that flatters you. Here are a few ideas...
#7: PRINTS
I love prints for several reasons. However, my #1 reason is: Prints hide all sorts of imperfections. I'm wearing one of
Jones New York
's dresses with a little stretch, which is super comfortable. Jones has a number of dress styles with added stretch. For example, here's a
Jones New York Leaf Print Jersey Dress
($98). Dress length = 38".
Where to Shop...
Land's End

~
Here's a
Women's Regular Sleeveless Pattern Cotton Modal Fit and Flare Dress - Coral Bliss Floral, L
($59), available in Regular, Petite, Tall, and Plus sizes. This dress style is also available in 3 other prints.
#8: DRAPING
Draping is a great distraction, whether it's around the neckline or waist, or in the skirt. And it's so soft and feminine looking! For example, here's a
Tommy Bahama 'Tambour' Side Gathered Dress
($128). Dress length = 37 1/2".
Where to Shop...
Anne Klein
~
Anne Klein Cowl Neck Sheath Dress
($99). Dress Length: 40 5/8".
#9: SLEEVES
I'm not going to put a moratorium on sleeveless dresses now that I'm post-50. There are just too many beautiful sleeveless dresses for women over 50. But you can be sure I'm going to grab a well-designed dress with sleeves whenever I can. Finding a sophisticated dress with sleeves can be pretty challenging up to very recently. This year, however, I'm seeing more and more dresses with elbow-length (some brands call them "longer short sleeves") sleeves. I'm also a huge fan of the "fit and flare" dress style. For example, take a peek at this
Jones New York Printed Elbow Sleeve Dress
($129).
Where to Shop...
Soft Surroundings
~ I see lots of women over 50 in sweater dresses. They often style them with leggings or with tights and high boots. This
Long Sleeve Shapely Anywhere Dress - EMERALD
($94.95) is a perfect example.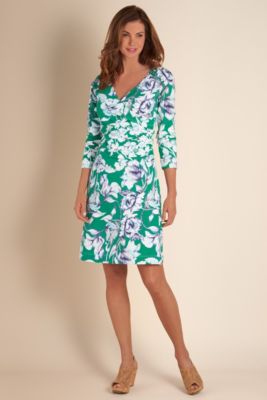 #10: Lace Dresses
For me, keeping in touch with my feminine side has been very important since turning 50. Menopause and its many side effects have really gotten my girlfriends and me down at times. For me, slipping into a feminine outfit is a great pick-me-up. The beautiful lace dresses that have come into vogue the last couple of years are a great choice for women over 50. Lace sleeves, like ones in the very feminine
Adrianna Papell Lace Bodice Banded Sheath Dress (Regular & Petite)
(Length is 37") is a great way to hide aging arms without looking frumpy. If you're still comfortable with sleeveless dresses, lace sheaths are everywhere.
Where to Shop...
Here are a few other lace dresses...
For more dress styles, take a peek at
Summer Sale On Dresses For Women Over 50.
Full Disclosure:
Product photos are shown to give Flattering50 readers visual examples of current fashion trends. These photos are provided by clothing companies that have an affiliation with Flattering50. If you click and shop at any of the clothing sites, you are supporting this blog--so
...Big Thanks!!