Editor's Note:
This post was updated in

December 2013

. For up-to-the-minute sales, take a peek at my On Sale page.
Here's my list of favorite flattering dress styles for women over 50. Of course, not all designs will be perfect for every over 50 body shape or every over 50 personality. But a few styles come pretty close to being universally wonderful for older women. I've tried to give a range of dresses, from casual to cocktails.
This post first appeared in May 2011. I asked readers to tell me which dress styles they liked and which they'd never wear. I've appreciated the feedback
immensely
. It's clear that women over 50 are longing for the fashion world to start showing apparel on older models of average weight. I wonder if that will ever happen. I hope so.
# 1: THE WRAP
What makes the wrap dress ideal for just about every over 50 woman is the V-neck and draping above the waist, drawing attention away from the tummy and hips. My favorite wrap dresses have three-quarter sleeves and a print (to hide those little lumps and bumps). For instance, here I am in my
Coldwater Creek
wrap dress (photo below). The dress's skirt is lined, which helps it keep its shape. I got this in February and I love it!
Where to Shop...
Shopbop
~ The wrap design was created by the
Diane Von Furstenberg
, one of my "woman of a certain age" icons. Her wraps are famous for their bold colors and prints. If you are looking to invest in a few garments, I can't think of a better an investment than one of her wraps, such as
Diane von Furstenberg New Jeanne Two Wrap Dress
($365).
Nordstroms
~ For a wrap dress under $100, take a peek at this
Maggy London Print Jersey Fit & Flare Dress (Regular & Petite)
($98) (below)
Land's End
~
Women's Regular 3/4-sleeve Pattern Ponté Wrap Dress - Rich Cherry Print, M
($79). Available in a blue print, too. Sizes XS-XL. In Regular, Petite and Tall.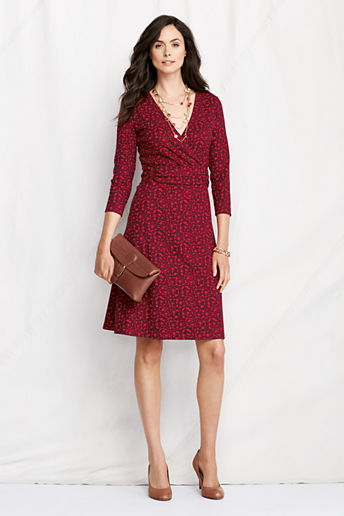 QVC
~
Bob Mackie's Drape Front V-Neck Dress w/ Stitch Detail & Removable Belt
($56)
#2: SHEATH/SHIFT
The sheath or shift is so simple and sophisticated. Often, the sheath has short sleeves or is sleeveless, which I know doesn't appeal to many over 50 women.
Anna Wintour
, 63, looked fabulous in sleeveless and cap sleeve dresses in the documentary,
September Issue
(2009). She often wears a lightweight cardigan, sometimes just draping it over her shoulders. I'm a huge fan of lightweight cardigans! I also like sheaths paired with a shawl or a pretty short jacket, like the one my girlfriend is wearing over her sheath (above).
Where to Shop...
Where to shop for a sheath? Just about everywhere! My favorite sheaths for women over 50 have a print, lace or pattern. A pattern is a great way to hide lumps or bumps. For example...
Shabby Apple
~ Shades of white are "hot" this fall. The
Pretty Woman
print dress ($88) from Shabby Apple is stunning.
Land's End
~ A simple grey sheath, like the
Women's Regular Sleeveless Jacquard Welt Pocket Dress - Sterling Heather Jacquard, 2
($79) can be worn from September through May. Available in Regular, Petite, Tall and Plus Sizes.
Shopbop
~ I love the color and airiness of the
Won Hundred Sohe Dress
($264) (below).
#3: FULLER SKIRT
Dresses that are fitted on top and flare on bottom (ie, an A-line) are a flattering choice for most older women. They're also very comfortable.
This photo was taken on a dinner cruise on a bateau mouche in Paris.
Where to Shop...
Ann Taylor
~ This dress is everything going for it: a feminine scoop, 3/4 sleeves and a flattering full skirt. The
Ann Taylor Dot Flared Sweater Dress
($119) is also available in Currant red. The length is 21" from the natural waist.
Land's End
~
Women's Regular Elbow Sleeve Ponté Boatneck Dress - Cinnamon Bark, XL
($69) is available in sizes XS-XL and 3 colors. In addition to the full skirt, I love the wide neckline and the longer short sleeves.
Nordstroms
~
Tahari Crepe Fit & Flare Dress
(was $128,
now $76.80
)
#4: COLOR BLOCK
Yes, I'm a
huge
fan of color block dresses for women over 50. Color block designs vary tremendously and some are more age appropriate than others. I'm partial to the ones with dark vertical panels on the sides because they make a woman look slimmer. For those who want to "dip their toe" in something color blocking, a black dress with a white collar, like the one below, is a nice choice and wonderfully retro.
Where to Shop...
Nordstrom
~ Here's a lovely
Ellen Tracy Front Zip Colorblock Ponte Knit Shift Dress
($118) with long sleeves. (Sorry, but I don't know the length.)
Or...for something a little different, the color block on this
Ivy & Blu Lace Trim Ponte Knit Sheath (Regular & Petite)
is created with lace ($158).
#5: V-NECKS
At 50+, I want to draw attention away from my jawline, which, sadly, is starting to sag. A V-neck dress offers a slight distraction and is very feminine for women over 50.
Here I am in a jersey dress with a v-neck and an empire waist. It was feminine and ultra-comfortable choice for a recent dinner cruise on the Seine, celebrating my wedding anniversary.
Where to Shop...
There's a wide variety of dresses with V-necks, as I'm sure you can imagine.
Jones New York
~
Jones New York MJP Side Tie Dress
($119) (below).
#6: THE LITTLE BLACK DRESS
At our age, too much black may be too harsh or severe looking. Sometimes, but not always. I see plenty of over 50 women, like the one below, who look quite elegant in a basic black dress. And I love the 3/4 sleeves. Still not convinced? Try adding a colorful scarf or statement necklace for a pop of color.
Where to Shop...
I have a sleeveless black sheath with black sequins that is a lifesaver when I have to pull together something for a dress-up occasion. I highly recommend a LBD--it solves so many "what to wear?" dilemmas.
Shabby Apple
~ If you prefer sleeves, take a peek at
Frankie
($90)
Karen Kane Lace Sleeve Fit & Flare Dress
($138). I love the lace sleeves. Please note: this dress is only 35 1/2" long.
#7: PRINTS
I love jersey dresses because they're super comfortable. The trouble with jersey, though, is that it is lightweight and can cling to my little lumps and bumps. This is often true with other structured dresses in a lightweight material (ie, silk). Since turning 50, I'm choosing more dresses with prints, like this
Jones New York Printed Jersey Center Wrap Dress (Red, Size 12)
($98) in Sizes 0-16. I'm particularly fond of the trendy graphic prints. Dainty prints don't feel right anymore.
Where to Shop...
Land's End

~
My girlfriend has this
Women's Regular Ponté Boatneck Flock Dress - Charcoal Heather Floral, M
( $79)
and loves it. It's available in Regular, Petite and Plus sizes.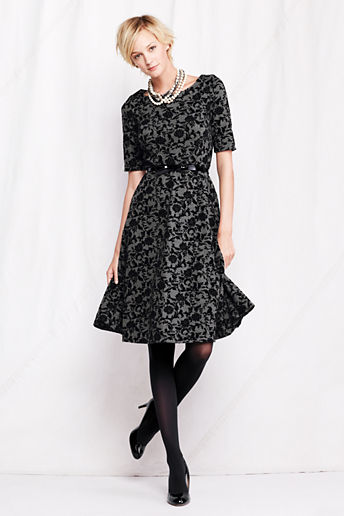 QVC
~ Here's a fun
Isaac Mizrahi Live! Giraffe Print Shirt Dress w/ Removable Belt
(was $69, now
$43.58
) in Sizes 1X-3X.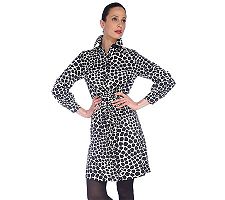 #8: DRAPING
Draping is a great distraction, whether it's around the neckline or waist, or in the skirt. And it's so soft and feminine looking! Here's a
Jones New York Printed Overlap Twist Dress (Purple, Size 12)
($98) (Sizes 0-16) that I'm just crazy about.
Where to Shop...
There's a lot of variation in the way a garment is draped. As a result, you'll find that some draping is great for daytime and other designs are perfect for evening affairs.
Land's End
~
Women's Regular Drapeneck Sweater Knit Dress - Sweet Bordeaux Heather, XL
($59) in Sizes XS-XL.
#9: SLEEVES
I'm not going to put a moratorium on sleeveless dresses now that I'm post-50. There are just too many beautiful sleeveless dresses for women over 50. But you can be sure I'm going to grab a well-designed dress with sleeves whenever I can. Finding a sophisticated dress with sleeves can be pretty challenging up to very recently. This year, however, I'm seeing more and more dresses with elbow-length (some brands call them "longer short sleeves") sleeves. I'm also a huge fan of the "fit and flare" dress style. For example, take a peek at this
Jones New York Printed Elbow Sleeve Dress
($129).
Where to Shop...
QVC
~
Linea by Louis Dell'Olio Animal Jacquard Long Sleeve Knit Dress
(was $53, now
$39.76
) in Sizes XXS-3X.
Soft Surroundings
~ I see lots of women over 50 in sweater dresses. They often style them with leggings or with tights and high boots. This
Talls Two-Faced Dress - HENNA
($89.99) is a perfect example.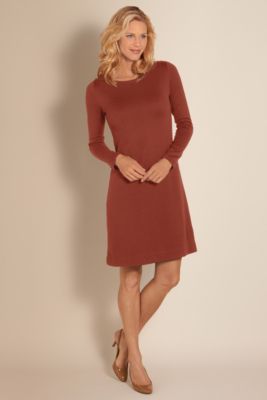 #10: FEMININE ACCENTS
I could write, and maybe I will, a whole post on feminine dress details—ruffles, peplum, light beading, lace, crepe or sheer fabrics, tiers, or ruching. As we age, it's important to continue to express our wonderful female energy, compassion and sensitivity in what do as well as what we wear.
Recently, the over 50 wife of a friend came to a party in a black loose dress with cut-out shoulders (like the one on the right, though you can't see the cut-out shoulders very well). I thought: "What a great solution to the aging arm dilemma." I love the dress on the left, too, and know several very trim over 50 women who would look fabulous in it. I'll stick with the loose and easy dress on the right. If you like this look, take a peek at
Cheap Monday Sally Dress
(was $60, now $42). It's available in Size XSmall, Small and Medium) at
shopbop.com
.
Where to Shop...
Shabby Apple
~ The tierred lace
Knave of Hearts
($95) dress design is a feminine choice.
Ann Taylor
~
I love lace, especially lace sleeves. Lace sleeves are very feminine
and
offer just the right amount of over 50 arm coverage. For example, take a peek at this
Ann Taylor Lace Overlay Short Sleeve Sweater Dress
($119)
Jones New York
~ Or how about this lovely draped
Jones New York Cascade Jersey Dress
($129)?.
For more dress styles, take a peek at
Summer Sale On Dresses For Women Over 50.
Full Disclosure:
Product photos are shown to give Flattering50 readers visual examples of current fashion trends. These photos are provided by clothing companies that have an affiliation with Flattering50. If you click and shop at any of the clothing sites, you are supporting this blog--so...Big Thanks!!