Editor's Note:
This post was updated in

June 2014

. For up-to-the-minute sales, take a peek at my On Sale page.
Here's my list of favorite flattering dress styles for women over 50. Of course, not all designs will be perfect for every over 50 body shape or every over 50 personality. But a few styles come pretty close to being universally wonderful for older women. I've tried to give a range of dresses, from casual to cocktails.
This post first appeared in May 2011. I asked readers to tell me which dress styles they liked and which they'd never wear. I've appreciated the feedback
immensely
. It's clear that women over 50 are longing for the fashion world to start showing apparel on older models of average weight. I wonder if that will ever happen. I hope so.
#1: SHEATH/SHIFT
Summertime is just around the corner and so I begin my list with the classic summer dress: the sheath. Depending on how a woman feels about her over 50 arms, the most flattering sheath may be sleeveless, short sleeved or 3/4 sleeved. I've included this photo of an over 50 girlfriend who still has nice skin, including on her arms, and looks lovely in a sleeveless sheath. Vogue editor-in-chief
Anna Wintour
, 63, also wears sleeveless sheaths. I figure if Anna is willing to go sleeveless, so can I. Like Anna, I often have a lightweight cardigan, sometimes just draped over my shoulders, with me to wear in air conditioned places. I'm a huge fan of lightweight cardigans! I also like sheaths paired with a shawl or a short summer jacket.
Where to Shop...
Where to shop for a sheath? Just about everywhere! My favorite sheaths for women over 50 have a print, lace or pattern. A pattern is a great way to hide lumps or bumps. For example...
Nordstrom
~ I love the print on this
Taylor Dresses Jacquard Sheath Dress
($138). Dress length = 38 3/4".
Jones New York
~ Here's a great sheath with 3/4 sleeves in spring's hot orange. The tie front on the
Jones New York Print Jersey Sheath Dress
($98) (below) offers a bit of tummy distraction.
I also like this short sleeve
Jones New York Short-Sleeve Polka-Dot Dress
($98). It looks short, but JNY says it's 39" long.
# 2: THE WRAP
The wrap dress is another style that is available in various sleeve lengths. What makes the wrap dress ideal for just about every over 50 woman is the V-neck and draping above the waist, drawing attention away from the tummy and hips. Some of my favorite wrap dresses have three-quarter sleeves and a print. For instance, I am wearing a Coldwater Creek wrap dress (above). The lightweight jersey material makes it a comfortable choice for most of the year.
Where to Shop...
Nordstrom
~ The wrap design was created by the
Diane Von Furstenberg
, one of my "woman of a certain age" icons. Her wraps are famous for their bold colors and prints. If you are looking to invest in a few garments, I can't think of a better an investment than one of her wraps, such as
Diane von Furstenberg 'New Julian 2' Silk Wrap Dress
($365).
Anne Klein
~ For a wrap dress under $125, take a peek at this
Anne Klein Floral Print Wrap Dress
($99) (below).
Land's End
~
Women's Regular 3/4-sleeve Pattern Ponté Wrap Dress - Rich Cherry Print, M
($79). Available in a blue print, too. Sizes XS-XL. In Regular, Petite and Tall.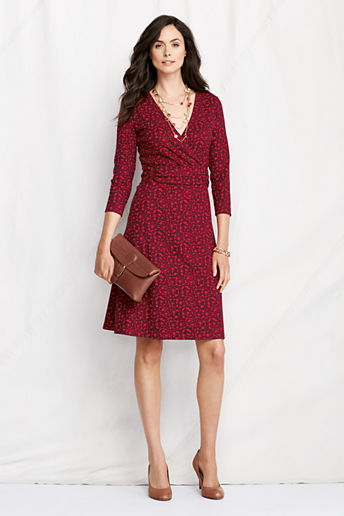 #3: FULLER SKIRT
I love sheaths, but they don't always love me. The reason: I have a pear-shaped body. Any sheath that hugs my frame too closely will make me look bottom heavy. The trendy
Fit and Flare
dresses, which are fitted on top and flare at the bottom, are a flattering choice for women like me. They're also very comfortable. I'm wearing a
Banana Republic
dress (above) that's a few years old.
Where to Shop...
Land's End
~ I'm loving this new
Women's Regular Elbow Sleeve Pattern Cotton Modal Fit and Flare Dress - Blue Indigo Floral, XS
($59) for spring. Vintage prints are very much in vogue. The regular hem is 38". It's available Sizes XS to XL, as well as in Petite and Plus sizes.
#4: COLOR BLOCK
Yes, I'm a
huge
fan of color block dresses for women over 50. Color block designs vary tremendously and some are more age appropriate than others. I'm partial to the ones with dark vertical panels on the sides because they make a woman look slimmer. For those who want to "dip their toe" in something color blocking, a black dress with a white collar, like the one below, is a nice choice and wonderfully retro.
Where to Shop...
Nordstrom
~ Here's a lovely
Ellen Tracy Front Zip Colorblock Ponte Knit Shift Dress
($118) with long sleeves. (Sorry, but I don't know the length.)
Anne Klein
~ For blocks of off-white and cream, take a peak at this
Anne Klein Color Block Swing Dress
($129. Dress length: 39"
Or...for something a little different, how about a color swirl, instead of a color block? I love the sophisticated styling of this
Anne Klein Swirl Combo Dress
($129). Dress length: 37 1/2".
#5: V-NECKS
At 50+, I want to draw attention away from my jawline, which, sadly, is starting to sag. A V-neck dress offers a slight distraction and is very feminine for women over 50.
Here I am in a jersey dress with a v-neck and an empire waist. It was feminine and ultra-comfortable choice for a recent dinner cruise on the Seine, celebrating my wedding anniversary.
Where to Shop...
There's a wide variety of dresses with V-necks, as I'm sure you can imagine.
Jones New York
~
Jones New York Floral Dress
($129) (below). Dress length = 40".
#6: THE LITTLE BLACK DRESS
At our age, too much black may be too harsh or severe looking. Sometimes, but not always. I see plenty of over 50 women, like the one below, who look quite elegant in a basic black dress. And I love the 3/4 sleeves. Still not convinced? Try adding a colorful scarf or statement necklace for a pop of color.
Where to Shop...
I have a sleeveless black sheath with black sequins that is a lifesaver when I have to pull together something for a dress-up occasion. I highly recommend a LBD--it solves so many "what to wear?" dilemmas.
Nordstrom
~Here's a stunningly simple black
Adrianna Papell Asymmetrical Drape Jersey Dress
($98). The draping is so feminine. Dress length = 39".
#7: PRINTS
I love prints for several reasons. However, my #1 reason is: Prints hide all sorts of imperfections. I'm wearing one of
Jones New York
's dresses with a little stretch, which is super comfortable. Jones has a number of dress styles with added stretch. For example, here's a
Jones New York Leaf Print Jersey Dress
($98). Dress length = 38".
Where to Shop...
Land's End

~
Here's a
Women's Regular Sleeveless Pattern Cotton Modal Fit and Flare Dress - Coral Bliss Floral, L
($59), available in Regular, Petite, Tall, and Plus sizes. This dress style is also available in 3 other prints.
#8: DRAPING
Draping is a great distraction, whether it's around the neckline or waist, or in the skirt. And it's so soft and feminine looking! For example, here's a
Tommy Bahama 'Tambour' Side Gathered Dress
($128). Dress length = 37 1/2".
Where to Shop...
Anne Klein
~
Anne Klein Cowl Neck Sheath Dress
($99). Dress Length: 40 5/8".
#9: SLEEVES
I'm not going to put a moratorium on sleeveless dresses now that I'm post-50. There are just too many beautiful sleeveless dresses for women over 50. But you can be sure I'm going to grab a well-designed dress with sleeves whenever I can. Finding a sophisticated dress with sleeves can be pretty challenging up to very recently. This year, however, I'm seeing more and more dresses with elbow-length (some brands call them "longer short sleeves") sleeves. I'm also a huge fan of the "fit and flare" dress style. For example, take a peek at this
Jones New York Printed Elbow Sleeve Dress
($129).
Where to Shop...
Soft Surroundings
~ I see lots of women over 50 in sweater dresses. They often style them with leggings or with tights and high boots. This
Long Sleeve Shapely Anywhere Dress - EMERALD
($94.95) is a perfect example.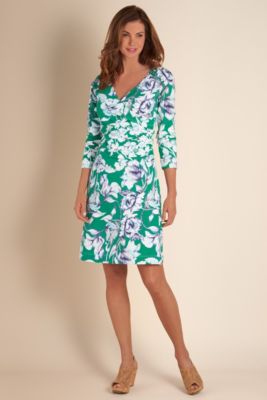 #10: FEMININE ACCENTS
I could write, and maybe I will, a whole post on feminine dress details—ruffles, peplum, light beading, lace, crepe or sheer fabrics, tiers, or ruching. As we age, it's important to continue to express our wonderful female energy, compassion and sensitivity in what do as well as what we wear.
Recently, the over 50 wife of a friend came to a party in a black loose dress with cut-out shoulders, like the dresses above. Or for a shopping source, check out the
Easy Weekend Dress - INDIGO
($79.99) at
Soft Surroundings
. As Donna Karan has pointed out, the shoulders never aging.
Where to Shop...
Nordstrom
~ Lace dresses are a great choice for women over 50. Here's a very feminine
Adrianna Papell Lace Bodice Banded Sheath Dress (Regular & Petite)
($140). The length is 37".
Or here's a lovely hot pink
Adrianna Papell Draped Side Knot Jersey Dress
($98) with a 39" length.
For more dress styles, take a peek at
Summer Sale On Dresses For Women Over 50.
Full Disclosure:
Product photos are shown to give Flattering50 readers visual examples of current fashion trends. These photos are provided by clothing companies that have an affiliation with Flattering50. If you click and shop at any of the clothing sites, you are supporting this blog--so
...Big Thanks!!