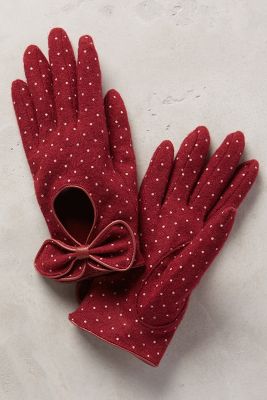 Am I the only American who wasn't out shopping this weekend? Probably not, but do wonder sometimes. I'm well aware that I am missing out on huge savings by avoiding the "Black Weekend" sales. On Friday, the
New York Times
was so thick with store circulars it looked like the Sunday Times. Every year I'm tempted to venture out to the stores, but then visions of crowds and chaos keep me at home, where I wait patiently for Cyber Monday.
I love Cyber Monday. I love shopping and saving on holiday gifts, while enjoying the peace and solitude of my home. Over the weekend, I made up a list of gift ideas for my girlfriends, sisters, and sister-in-laws over 50. This afternoon, I did a little pre-Cyber Monday search of the items to see if they were on sale anywhere. I was pleased to find that many (though not all) of my gift ideas are either priced below $50 or are reduced to under $50 during Cyber Monday sales. For example, these perky red
Valloire Dotty Gloves
are $48.
For my gift shopping list for the women over 50 in my life,  scroll down. And for links to many of the Cyber Monday sales, visit
On Sale
.