Editor's Note:
This post was updated in March 2016. I've included prices with some dresses, but click on photo or text for best price now. For more dress ideas, visit Shop Over 50.
There's a part of me that hesitates to write about wedding guest attire. There are so many factors to consider when choosing an outfit. How can I cover them all? The ones that spring to mind immediately are 1) time of the wedding—day or evening, 2) type of event—very formal affair (ie, groom and groom's men in morning coats, a high-end reception) or a relatively low-key affair (ie, a small gathering in a backyard, at a restaurant, by a waterfall), and 3) ethnic and regional considerations. It goes without saying that there are different expectations among the various ethnic groups. And I think where you live in the world, even which part of the United States, will dictate what is appropriate dress.
All that said, I intend to forge on, sharing my thoughts on wedding guest attire for women over 50. I'll leave it to you to pick and choose what you think will apply to your upcoming affair. I'm including lots of shopping resources. In some cases, the dresses may look short on the very tall models. However, the dress length ranges from 35"-41", with the majority 38" long.
BEST GUEST ATTIRE: SHOPPING STRATEGY
A wedding is a huge event in a family's history and very often involves a year's worth of planning. I believe guests should show their appreciation for the momentous occasion by wearing something more than what they'd wear to a neighborhood cocktail party. This doesn't mean, however, that you have to buy a dress you'll never have occasion to wear again. Or even that you have to buy a dress. To get the most use out of a wedding outfit, pick one that's…
Not Too Trendy
.
If you're on a budget or just hate to spend money on a dress that can't be worn everyday, look for dresses in the classic styles that flatter over 50 women. A good quality dress in a classic style--such as V-necks, simple sheaths, A-lines and wraps--that is well cared for will last for years. For example, I'm wearing a Lauren by Ralph Lauren draped sheath at the top of this post. What makes this dress a good choice for a mid-day wedding is the dress quality. It's made well of a nice material and is lined.
If floral prints aren't to your liking, there are plenty of sheaths in solid spring colors like the
Calvin Klein - Cap Sleeve Ruched Sheath Dress (Atlantis) Women's Dress
below. Add a pretty statement necklace and a pair of feminine heels or flats and you're ready to look smashing.
Shopping Resources...
Good for Day and Evening
.
It's not always possible, but I love when I find a great dress that can be worn to both day and evening events. When I want to buy a dress that works for either side of sunset, my go to color is navy or indigo. A rich fabric is another big consideration. I still love lace, especially lace 3/4 sleeves, so I would consider this
rsvp - Emma Lace Dress (Navy) Women's Dress
with some pretty jewelry and heels. The length is 37".
Shopping Resources...
Good for Dressy Affairs.
There's no question in my mind: If you want a dress that looks smashing at both a nice gathering
and
a grand affair, choose something in a rich pattern and fabric. In the metropolitan New York area, you can't go wrong with a well-made black or navy blue sheath for evening weddings. I love the batwing sleeve trend, like this
Adrianna Papell - Chiffon Drape Overlay With Banding (Black) Women's Dress
. Avoiding black these days? This dress also comes in
Dusty Rose, Blue Lake, Sky
and
Wisteria
.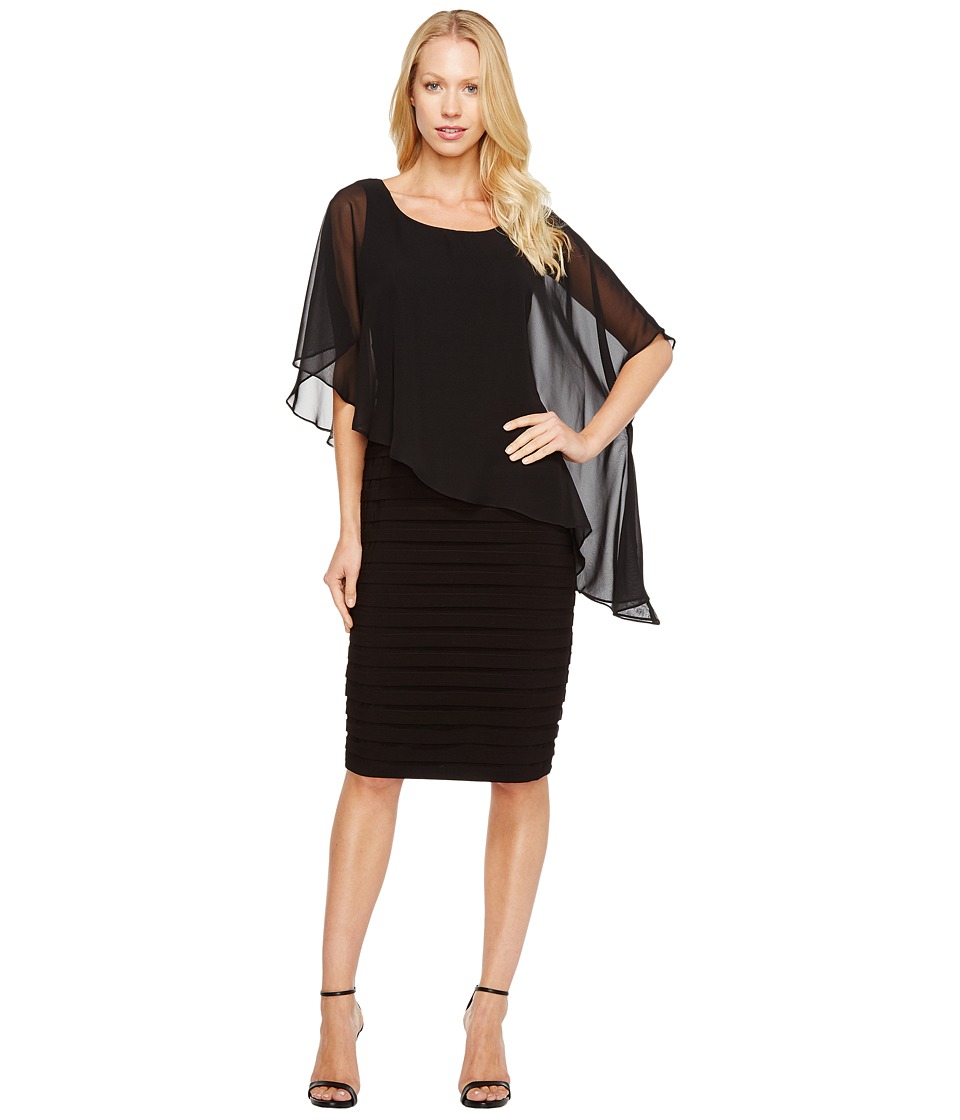 Shopping Resources...
Fabulous for Your Figure.
I've listed this strategy last because I figure it really goes without saying. If you feel like a million bucks in a dress that flatters your body shape, you'll look like a million bucks. And that's the way you should look at a wedding. There are dresses to flatter every body shape this season.
I'll admit it: I flaunt my mid-section whenever possible. Everyone's got a great feature and that's mine. So dresses that fit and flare, like the one below are my "go to" dress style. Another advantage to the dress with a fuller skirt: It's great for dancing in! I also like geometric prints as an alternative to floral ones.
For more wedding guest dress ideas, here are a few more...
Shopping Resources...
SUIT YOURSELF
Twenty-five years ago, when my friends and I were getting married, the only suits you'd see on women at weddings were matching jacket-and-skirt sets. Today, suits and pants suits are starting to turn up at weddings, even on the mother of the bride or groom. I have yet to see a woman in a pant suit at a wedding, but I don't see anything wrong with it. A dressy pant suit in a rich fabric, like crepe, might work well.
My favorite suits are the jacket and dress sets. An over 50 girlfriend sent me a picture of herself at a "black tie optional" wedding (photo above). Instead of choosing an evening gown that she might never have a chance to wear again, she chose a simple, sleeveless
Alex Evenings
sheath with a bolero jacket with a spray of black sequins. It offers arm coverage, but still is very feminine. You'll find a bunch of Alex Evening suit dresses in spring colors at
NORDSTROM
This
Tahari by ASL - Whitney - P Dress (Sky Blue) Women's Dress
is another example of a dress with matching bolero jacket...
As the weather gets warmer, though, you might want to opt for arm coverage that is lightweight. If that's the case, you might want to take a peek at the following...
Shopping Resources...