My over 50 girlfriend wore a black sheath and sequin jacket to a recent "black tie optional wedding."
Editor's Note:
This post was updated in November 2013. I've included prices with some dresses, but click on photo or text for best price now. Or check out current sales on my On Sale page.
There's a part of me that hesitates to write about wedding guest attire. There are so many factors to consider when choosing an outfit. How can I cover them all? The ones that spring to mind immediately are 1) time of the wedding—day or evening, 2) type of event—very formal affair (ie, groom and groom's men in morning coats, a high-end reception) or a relatively low-key affair (ie, a small gathering in a backyard, at a restaurant, by a waterfall), and 3) ethnic and regional considerations. It goes without saying that there are different expectations among the various cultural groups. And I think where you live in the world, even which part of the United States, will dictate what is appropriate dress.
All that said, I intend to forge on, sharing my thoughts on wedding guest attire for women over 50. I'll leave it to you to pick and choose what you think will apply to your upcoming affair. Click on any of the photos for dress details, additional sizes, or to shop other dresses.
BEST GUEST ATTIRE: SHOPPING STRATEGY
A wedding is a huge event in a family's history and very often involves a year's worth of planning. I believe guests should show their appreciation for the momentous occasion by wearing something more than what they'd wear to a neighborhood cocktail party. This doesn't mean, however, that you have to buy a dress you'll never have occasion to wear again. Or even that you have to buy a dress. To get the most use out of a wedding outfit, pick one that's…
Not Too Trendy

. If you're on a budget or just hate to spend money on a dress that can't be worn everyday, look for dresses in the classic styles that flatter over 50 women. A good quality dress in a classic style--such as V-necks, simple sheaths, A-lines and wraps--that is well cared for will last for years. An over 50 girlfriend sent me a picture of herself at a recent "black tie optional" wedding (photo above). Instead of choosing an evening gown that she might never have a chance to wear again, she chose a simple, sleeveless Alex Evenings sheath with a bolero jacket with a spray of black sequins. Since the LBD is showing no signs of going out of style, I'm betting my girlfriend will be wearing this out to dressy affairs for years to come.

A V-neck wrap dress is a style that has been popular for decades--ever since Diane von Furstenberg created it in the 1970s. I'm fond of faux wraps or twist wraps, like the Jones New York Printed Overlap Twist Dress ($119) below, because the wrap is sewn in place. The JNY dress is available in Sizes 0-16.
I'm also loving the new longer short-sleeve dresses I'm seeing around the web. This
Women's Regular Pattern Ponté Boatneck Dress - Bright Cobalt Blue Print, M
($79) is a perfect example. Available in Regular, Petite and Tall, and in Sizes XS-XL. Choose the right accessories--your jewelry, belt, purse and shoes--and this dress style can be used for day or night. It's also great for dancing in! Click on the photo to go to Land's End and see the variety of patterns and colors available.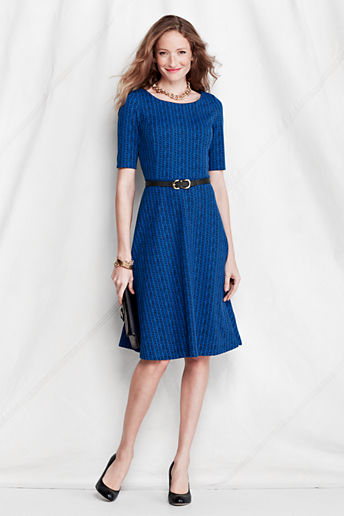 Good for Day

and

Evening. It's not always possible, but I love when I find a great dress that can be worn to both day and evening events. When I want to buy a dress that works for either side of sunset, I consider two things: 1) fabric and 2) pattern. I look for a garment in a solid color or with an abstract or geometric design. Sheath dresses, another timeless style, are available in lots of rich colors this season. Take, for instance, this Won Hundred Sohe Dress ($265) from Shopbop.
Dresses with a peplum continue to be popular. Gee, do you think the fact that the peplum offers great tummy coverage has anything to do with it? I do. Here's Shabby Apple's
El Capitan
dress ($86), a navy dress with a peplum design. Add a striking gold necklace and you're ready for a day or evening wedding.
Good for Dressy Affairs

. There's no question in my mind: If you want a dress that looks smashing at both a nice gathering

and

a grand affair, choose something in a rich pattern and fabric. In the metropolitan New York area, you can't go wrong with a well-made black sheath for evening weddings. To look smashing at an evening affair, add a little glittery embellishment, like the jacket in my friends outfit at the top of the post or this Anne Klein Matte Jersey Sheath (Black, Size 12) ($139). Available in Sizes 2-14.
Or, take a peek at this
Anne Klein Fit and Flare Dress
($139) (available in Sizes 2-14). I love the shear yoke and the roomy skirt.
Fabulous for Your Figure.

I've listed this strategy last because I figure it really goes without saying. If you feel like a million bucks in a dress that flatters your body shape, you'll look like a million bucks. And that's the way you should look at a wedding. There are dresses to flatter every body shape this season. I'm particularly fond of dresses with draping. Draping is great for hiding little lumps and bumps. Here are two lovely examples...
Jones New York Crepe Jersey Center Wrap Dress (Pink, Size 12)
($118). Available in Sizes 0-16.
SUIT YOURSELF

Twenty-five years ago, when my friends and I were getting married, the only suits you'd see on women at weddings were matching jacket-and-skirt sets. Today, suits and pants suits are starting to turn up at weddings, even on the mother of the bride and groom. I have yet to see a woman in a pant suit at a wedding, but I don't see anything wrong with it.

My three favorite wedding guest suit styles are...

1)

A blazer and dress set

(see below). Neutral tweeds are popular this fall, but if you'd like something more colorful, take a peek at the

Le Suit Piping-Trim Blazer & Sheath Dress

at Macy's. It's got a feminine peplum jacket.

2)

A feminine blazer with a matching or complementing skirt or pants

. For example, there's a

St. John Collection Jacket, Top & Skirt

at Nordstroms.

3)

A blazer and skirt that don't match, but make a stylish combination

.

That said, I'm really not seeing a lot of feminine or dressy suits online. Everywhere I've looked, it's mostly work suits or boxy weekend blazers. If you find any great shopping resources, let me know. Thanks!





Jones New York Tweed 2 Piece Dress (Black, Size 12)
Available in Sizes 3-16.
Full Disclosure:
Product photos are shown to give Flattering50 readers visual examples of current fashion trends. These photos are provided by clothing companies that have an affiliation with Flattering50. If you click and shop at any of the clothing sites, you are supporting this blog--so...Big Thanks!!