At the dry cleaners, I heard a man jokingly ask the store owner, "Which do you think is going to come first: the end of winter or the end of the world?" I wasn't sure if the man was referring to the "end of world" prediction for May 21 or the potential impact of recent international events, like Japan's nuclear disaster or the Libya conflict or some other grim drama playing out in the world. No explanation was needed for the 'end of winter' choice, however. It's April and it's still too cold! I put away my tall boots last week, but it's hardly been 'sundress and sandal' weather. I've noticed that over 50 women are turning to leggings to get them through the chilly spring.
LEGGING LOOKS
I snapped the picture below of a woman in black and gray striped leggings. I wish I had taken a better picture--sorry. She looked smashing with her silver bob haircut, the leggings with very thin stripes, the black leather jacket and flats. If someone described these leggings to me, I would have imagined Pippi Longstocking. But the stripes were ultra-thin, giving the outfit a bit of spirit without being tacky.
Not quite ready for striped leggings? That's fine. You'll find basic black leggings like the
Leggings
($38, but
$30.40
if you click on photo) from
Pure Collection
at the top of this post all over the Internet. For spring, though, it might be nice to break away from black and try another color like these
Michael Stars Stretch Jersey Full Length Legging
($54). They come in a choice of three colors.
Nordstrom
has a
large selection of leggings
, including
white Capri leggings
($24). White Capri leggings are a favorite with an over 50 girlfriend who wears them with handkerchief tunics in pastel colors from the Middle East (where she lived recently) all summer long.
I also found these cute
Jones New York Capri Leggings With Snap Button Detail
($54).

TUNIC TIME
In the absence of a long leather coat or woolly sweater, a long tunic over leggings is probably the easiest look for spring. There is, however, one requirement for making this look a success--that is, one that flatters the over 50 woman. The fact is, you must have great looking legs or, at least, nice legs. As someone who doesn't have either, the typical tunic over leggings doesn't work for me. And, believe me, I've tried to make it work! The typical tunic hits me mid-thigh and that just draws attention to my heavy legs. For women with heavier legs, like me, I suggest wearing something longer--a long sweater or short dress--over leggings.
As for tunics...Just about every online department store and many smaller clothing companies have tunics. Here's a sample of what you'll find.
Below is a better view (minus the leggings) of the
Washed Silk Tunic
($144, but
$115.20
if you click on photo) at the top of this post. It's from Pure Collection and comes in a choice of three colors.
Next, is a
EMBELLISHED TUNIC-M-CREAM
($118) from
Max Studio
.
The
Pure Silk Georgette Tunic
($118) from
Hessnatur
below looks short, but it's actually 28" long.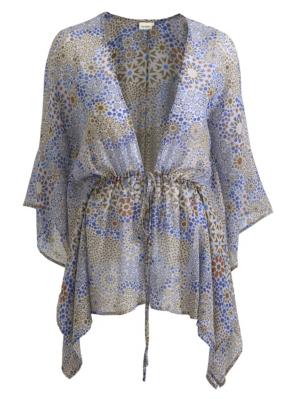 And here are a few tunics from
Jones New York
...
Jones New York 3/4 Sleeve Tunic
($99)
Jones New York Button Down Tunic Shirt - White
(was $89, now
$47.99
). Limited sizes.
Jones New York Floral Tunic - Pattern
($89)
For a good tunic selection
, including longer ones...take a peek at
J. Jill
and
Nordstroms