Photo Credit: William Werber
Fashion magazines love to report the season's "trends." It's just easier than trying to cover the entire fashion "waterfront," if you will, which is always changing. At least, that's what I find as a blogger. However, every time there's a
Fashion Week
in New York (the one for the spring 2012 collections just ended), I'm reminded that it's probably a disservice to readers to only report the trends. During any season, there's always so much variety. Last February, when designers unveiled their fall 2011 collection, I saw certain design elements repeated in different designers' collections. But I also saw wonderful design diversity. And now, with the cooler weather approaching, I can't wait to see how women will take those fall fashions and make them their own. It's really the diversity of fashion that I love most and think should be heralded, should be celebrated as much as possible. It's the diversity that enables the over 50 woman to find clothes that match her personal style and make her feel like a million bucks.
Recently, in an article entitled
The Five Things You Need for Fall
,
New York Times
fashion reporter Cathy Horyn, age 56, shared her fashion shopping list for fall 2011 as well as the wish lists of several other fashionable women. I was happy to read all the women had different ideas about what would complete their fall wardrobes. Their ideas were fashionable, yet individual. Ms. Horyn's list consisted of:
The Givenchy Gold-Ban Pump
It made me think: What would I choose as my five must-have items for fall? Clearly, my list would not look like Ms. Horyn's. For one thing, Ms. Horyn and I are operating with
very
different budgets. I estimate the above shopping list will set her back over $3,000. If I spent $3000 for fall, I'd have a boatload of clothing to show for it. Instead, my list would look like this...
THE 5 THINGS I'M LOOKING FOR THIS FALL
#1 Double-breasted Wool Jacket
A short jacket, like a P-coat, will be a lifesaver in a season of falling hemlines. When I'm shopping for a skirt or dress, I don't want to worry: "How will this hemline look under my knee-length winter coat?" I can wear any hem length with a jacket like this
Double-Breasted-Jacket
(was $324,
now $259.20
) from
Pure Collection
.
#2 Suede booties
I've always loved suede shoes and boots. The fact that suede is
au courant
this season means there will be a lot of styles to choose from. I wear an absurd amount of black, so I'm thinking about a pair of blue suede booties. If I can't find the blue, I'll settle for wine--another popular color this season. these
Womens Verde-16
(was $49.97,
now $33.97
) in faux teal suede from Sheik Shoes look like a fun choice. With the money saved, maybe I'll look for real suede pumps, too.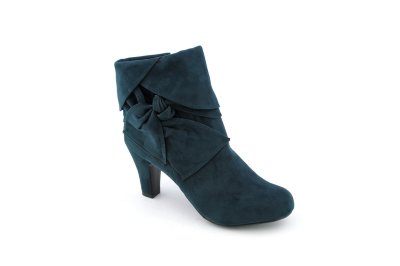 #3 Textured Stockings
Everywhere I turn, I'm seeing polka dot tights like these
Commando Polka Dot Tights
($32)
Unfortunately, I'm a little too reserve for such big dots. But seeing dots has made me crave textured tights for fall 2011. I'm gaga for these next two pairs...
Commando Lace Stripe Tights
($36)
Falke Grand Pepita Tights
($44)
#4 Something in a Houndstooth Pattern
I've already got a houndstooth pattern skirt and a black-and-hot-pink houndstooth pattern jersey shirt. So I'm thinking a sassy little houndstooth pattern clutch might be a fun fall accessory. If you're thinking like me, check out
etsy.com
. The site has a really fabulous selection of inexpensive houndstooth clutches.
#5 An Everywhere Dress
I wore
a lot
of dresses this summer. I couldn't help myself. Summer dresses are just so easy and great for going from day-to-night activities. I'd like to find an easy, comfortable dress for upcoming wintry outings. My favorite easy-style dresses are wraps and shirtwaists like...

Diane von Furstenberg New Julian Wrap Dress
($345.00)
Madewell Novelist Dress
($158.00)
Now that you know my 5 must-have things for fall 2011, what are yours?