It's that time again--swimsuit season! Huh? Here in the Northeast, we've been experiencing record snow fall and single digit temperatures. That hasn't stopped the brick and mortar shops in my area, however, from wheeling out their 2015 swimsuit lines. Recently, I took a peek at the trends. I'm happy to report there are a number of new swimsuit designs that are fun and flattering for women over 50. A few of the new designs, like the monokini and high-waist bottoms, might be best left to the under 50 set. But then, two of my "just 50" girlfriends still wear bikinis, so who knows?
To avoid confusion, I've left out the words "for women over 50" in the post's title. In the past, some visitors have been very disappointed when they haven't found women over 50 modeling the swimsuits. I understand completely, but the truth is: Most women I know, regardless of their age, would never pose in a swimsuit for the Internet. Instead, I'm illustrating the trends with photos of young models provided by the swimwear companies. I've assembled a group of swimsuits for women of different body shapes, including different bust sizes. Here goes...
FEMININE APPEAL
So many of the swimsuit designs for 2015 feature feminine styling. Thanks to highly-visible over 50 women, like Julianna Moore and Helen Mirren, it's clear that showing our feminine side is very attractive and very "appropriate." Some of the feminine accents making a splash in 2015 are...
# 1. Twists and Knots
#2. Crossover Styling
#3. Fluttery Tops and Bottoms
#4. Extra straps
#5. Single Shoulder Suits
and #6. Mesh Material...
#7. Crochet accents...
PRINT POWER
Like other garments, printed swimwear camouflages our little lumps and bumps. This season's prints tend to be bold in color and pattern. If you're looking for a trendy print, check out the...
#8. Mix Prints...
#9. Palm fronds...
#10. Animal Prints...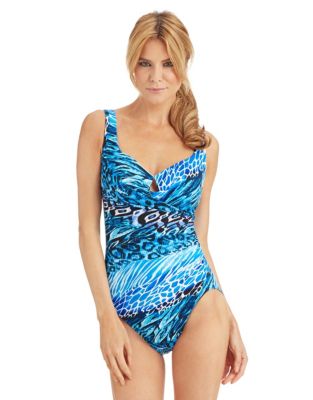 #11. Stripes...
Like animal prints, striped swimsuits never seem to go out of style. Since turning 50, I've become a huge fan of flattering, comfortable swim skirts like...
GOOD SPORTS
The 2015 sporty swimsuit are fun and energetic. Some of the sporty details attracting attention this swimsuit season are...
#12. Rashguard and

#13. Sleeves...
Rashguard swimsuits, which offer sun protection, are available everywhere. This next suit is recommended by the Skin Cancer Foundation.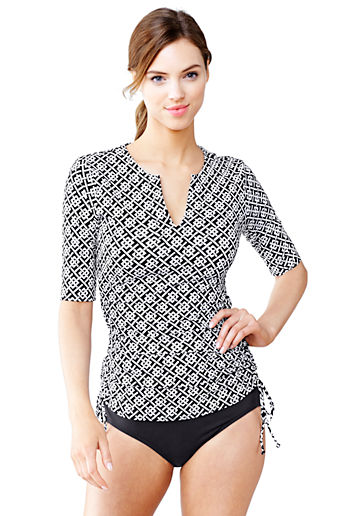 and...
# 14. Zippers...
10 PLACES TO SHOP FOR SWIMSUITS
Here are 10 links to sites with a very nice selection of one-piece suits, swim dresses, and tankinis.