Editor's Note:
This post was updated with a sample of current bargains in

July 2013

. For up-to-the-minute sales, click on the photos and shop the clothing sites, or...take a peek at my Bargains Now page.
The other day while shopping, I spotted a woman over 50 in a long, straight, sleeveless cotton dress. The fabric had a trendy grey, black and white "tribal" pattern. The neckline was somewhat plunging, so she wore a matching pale grey scoop-neck, sleeveless cotton shell underneath. The lack of excess fabric perfectly suited the woman, who was slim and petite. I actually went up to her and told her, "You look fabulous."
I'm seeing more long dresses than I have in a while and I find it wonderfully refreshing. At the risk of sounding like a crabby old lady, I find the
very
short skirts and shorts coupled with spiked-heel sandals on young girls in the city a little creepy, more than a little hooker-esque. This post features a sample of maxi dresses online, like
Jones New York Printed Maxi Dress (Green, Size 12)
(was $119,
now $47
) in Sizes 0-12.
But first, here's a list of
why I love long dresses
, especially those in light-weight fabrics...
Light-weight, long dresses have several advantages for women over 50:
They hide

less than perfectly shaped legs and/or varicose veins and other skin imperfections.

Long dresses, especially those that fan out below the torso,

are ultra-comfortable

and offer freedom of movement.
The continuous fabric color or pattern from shoulder to ankle

makes a woman look thinner

and distracts the eye from a widening waistline or hips.
Long skirts and dresses actually

make shorter women look longe

r

. As a 5' 4" woman, I have found that I look best in hems just above the knee or hovering near the ankle. (A hem only an inch or so below the knee makes me look like gigantic parasol mushroom!)
RING IN SPRING
Are you ready to make a statement with a long dress this spring? If so, there are some very lovely dresses for women over 50. For example, there's a
Anne Klein Stripe Print Maxi Dress (Blue, Size MD)
(was $129,
now $79
) available in Sizes XS, S, M, and L.
Or here's a striped maxi from
Shabby Apple
called
Jacobethan
AND THEN...SUMMER
Not surprisingly, most of the summer maxi dresses are sleeveless. I, like many of my over 50 friends, aren't crazy about our upper arms. But I'm not going to stop wearing sleeveless, especially when it's 80 degrees outside! My thought: If I'm dressed nicely in a flattering style and I keep smiling, people (unless they have an upper arm fetish) aren't going to be fixated on my aging limbs. And if I'm feeling self-conscious, I can always throw on a little lace or loose knit cover-up, or my beloved jean jacket. I'm especially fond of print maxi, but I've included a few maxi dresses in solids as well.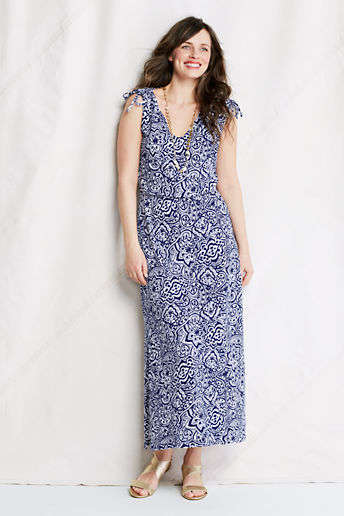 Women's Regular Pattern Slub French Terry Tie Shoulder Maxi Dress - Imperial Navy Print, M
. Also available in Sizes S, L, XL, as well as Petite and Plus sizes.
Grecian Style Maxi Dress - Sienna
(was $118,
now $59
) in lots of sizes and in Navy from
Pure Collection
.
Desert Modern
Joie Lunaria B Dress