True confession: I used to wear turtlenecks—a lot! I was such a turtleneck devotee that I even had sleeveless ones for summer. Honest. Sometime around age 50, I realized that turtlenecks weren't working for me anymore. The skin around my jaw was starting to sag a little. And if I weren't smiling (a woman's natural face lift), I felt the fabric hugging my neck was like a big arrow pointing to my aging jawline. Yikes! I immediately got rid of most of my turtlenecks and now only wear them for cross-country skiing. Instead, I look for dresses and tops with soft, lower neckline—V-neck, scoop neck, cowl neck—that draws attention away from the jawline. Lately, I've been noticing a lot of pretty scoop neck styles that would flatter the over 50 woman. Take, for instance, the
3/4 Sleeve Silk Trim T-Shirt
(was $44,
now $33
) from the Pure Collection. It's got a stylish twisted scoop neck, which I love. Below is a sample of some of the other scoop neck tops online…
PLEATED SCOOPS
Of all the new top styles, the top with horizontal pleats is my favorite. The pleats have a fluttery, feminine energy and offer great concealment for any little lumps and bumps.
From
Shopbop
…
Dolan Scoop Neck Tee
($80)
PEASANT TOPS
The last time I wore a peasant top was in the early 70s. But I saw a 61-year-old woman wearing one with jeans today and she looked great. The top would also look fabulous with a blue jean skirt. Here are a couple of examples...
Jones New York Ribbon Detail Linencott Top
($59)
From
Shopbop
…
Velvet Bayla Lace Blouse
($121.80)
BUTTONED SCOOPS
Cotton tees are a summer staple. I have them in many colors and sleeve lengths. For variety-sake, I like to mix in a couple of T-shirts with a few buttons down the front like the Henley. The
Organic Cotton Tee
($35) below is from
Hessnatur
and comes in 8 colors.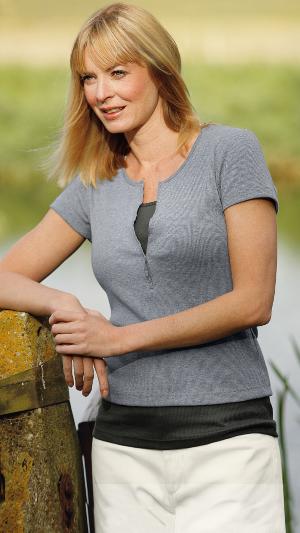 Or here's a top that's half-peasant and half-Henley from
Michael Stars
.
Michael Stars Short Sleeve Scoop Neck Peasant Henley
($78)
SHEER DETAIL
Garments with sheer material are one of the "hot" trends for for 2011. I'm not ready to wear a long skirt that's sheer from the thighs down like 20-something girls are wearing in New York City. But I'm loving this pretty top from
Couture Candy
...
Free People Hi Low Long Sleeve Top in White : Free People Women
($58)

KNIT TOPS
Knit scoops are great for work, especially if your office has the central air conditioning set for arctic temperatures like it is where I work.
Jones New York Scoop Neck Knit Top
($79)
Other knits are for more casual dressing, like this
Free People Coasting Tee : Free People Women
($88). It looks like you'll need a camisole underneath this top.
BASIC Ts
Of course, I love the easy simplicity of the basic scoop neck with short sleeves. The
Jones New York Scoop Neck Shell
($25) is available in 5 colors.
Or something striped like this
Organic Cotton Tee
($35) from
Hessnatur
...