When I was 48, I bought a white jean jacket at Ann Taylor (see above). I wore it a lot during the next two summers. Then, I turned 50 and thought: "I'm too old for a jean jacket." I loved that jean jacket, which had gotten softer with each washing, and couldn't bear to give it the heave-ho. So I packed it away in the attic. Last summer, I had my college friends out to the beach house for the weekend. One of the over 50 women wore cropped white leggings, an embroidered tunic in an ultra-light handkerchief linen, and a blue jean jacket. She looked fabulous. Fast forward to this spring, when I was getting ready to go to a bridal shower. I put on a floral dress, but did want to wear a boring blazer or cardigan. I remembered my jean jacket and retrieved it from the attic. I've been wearing it ever since.
My "no jean jackets after 50" decision was clearly a mistake. A jean jacket is great choice for women over 50. It's fun, structured, and a perfect extra layer for air-conditioning or cool summer evenings. Take, for instance, the at the top of this post. For Summer 2011, jean jackets are all over the Internet in blue, white and other colors. Below are a few more examples.
Jones New York Porcelain Jean Jacket
($58)
Jones New York Denim Jean Jacket
(was $58,
now $49.99
)
From
Hessnatur
...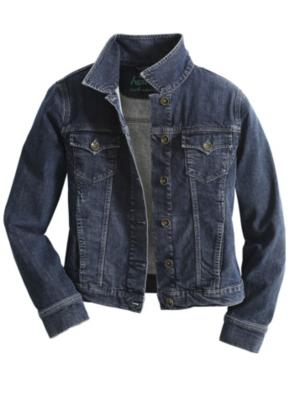 Organic Cotton Denim Jacket
($108)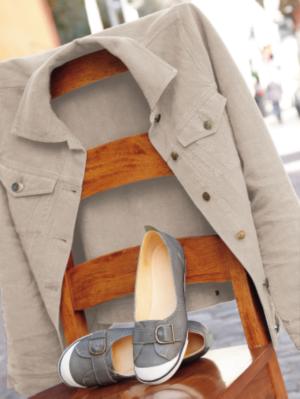 Hemp Denim Shirt Jacket
($158) is available in tomato and grey.
A bunch of designers are showing denim garments with simple, minimal lines this spring. Want to make a trendy fashion statement (minus the skirt with slit up to hip bone)? Check out this
Helmut Lang Denim Silky Wash Jacket
($335) at
Shopbop
.