I went to a dinner party last weekend. The hostess is a very attractive 50-something and has a bunch of equally attractive girlfriends over 50. I thought, "Maybe I can snap a few photos of the women for blog." Sadly, there was no one to snap. With only one exception, all the women were dressed the same: a glitzy top and slacks. The tops were more or less the same busy theme—clingy synthetic fabrics with animal prints or chaotic splashes of bold colors, plus gold or silver glitter, threads or other shiny embellishments. I could just hear the women, standing in front of their mirrors and saying: "Ooh, this top looks festive!" Yes, but Mardi Gras was in February.
Is the carnival look really something women over 50 should strive for? I think not. It's a mistake to equate glitzy with spirited or fun. In fact, I think it gives the total opposite impression. The over 50 woman is appealing and energized when she dresses in simple, sophisticated clothing. It's her personality—insightful, spirited, good humored, aware and compassionate—that makes her so appealing, so much fun to be with. Below are my favorite top styles (in no special order—I love them all!). They've got personality without the glitz. Most of them have structure. Baggy, manly tops may hide the lumps and bumps, but they also make women look masculine and much,
much
bigger than they are. Tops should gently (not tightly) follow your body's curves. If you're concerned about the lumps (ie, those tiresome bulges above the bra in back), choose a pretty print instead of a solid for camouflage.
A draped or cowl neck top like the
Michael Stars Slub 1x1 3/4 Sleeve Drape Neck Tee
is an easy, any occasion top. Don't you love the way it looks with jeans? It's made of 50% cotton/50% modal, so it's ultra soft. And it's available in 5 colors, including Garnet and Cucumber. Below is a very similar top, the
Splendid 1x1 Cowl Top
($48) from
Shopbop.com
, from Shopbop. It's got a great price because is available in limited sizes.
Dressing in my 50s is all about distraction. I want to draw the observer's eye away from things I don't want observed. A soft sash that ties in front hides the stomach.
Elie Tahari Angelic Tunic
. Limited sizes.
At the party last weekend, the one woman who stood out was wearing a simple outfit--a fitted white man-tailored shirt, khaki slacks and ballet slippers--that drew all the attention to her great smile and charming personality. The woman was actually in her 60s and the well-made clothing looked great on her statuesque frame.
Anne Klein Fitted Shirt With Detail
($49.98)
These days, all sorts of fabrics and prints are used for the man-tailored shirt. I'm loving this sheer
Silk-Chiffon-Blouse
.
.
Or how about this
Equipment Poppy Garden Earl Blouse
with a trendy floral print? If you click on the picture, you'll see it also shown with the shirt hanging out.
Lace is a great way to cover up without looking all covered up.This top is also available in white.
Anne Klein Long Sleeve Crew Neck Lace Top, Ships 10/11 (Black)
Anne Klein Lace Top with Mesh Backing, Ships 10/11 (White)
. Also available in black.
SCOOP NECK or OFF-THE-SHOULDERS

Sadly, my jawline isn't as tight as it once was, so the last thing I want to do is draw attention to it by wearing high-neck tops. Instead, I want to show more skin, drawing the eyes away from my jaw. (I also try to practice the natural face lift—smiling—as much as possible.)
Michael Stars 1x1 Slub 3/4 Sleeve Wide Neck Dolman Tee
Jones New York Cotton Basic Scoop Neck Tee
. Click on the photo to see all the color choices.
So maybe you don't have any real curves? Your torso is straight and narrow, or square? Do you have nice legs? If so, a sheer tunic like this feminine
Pure Silk Georgette Tunic
may look smashing on you. Tunics in super-light handkerchief cotton are perfect, too. And if you have nice legs, you won't run the risk of looking boxy all over.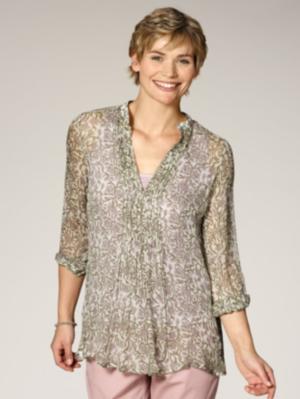 I'm a huge fan of asymmetric fashions. For me, they say: "Don't take this over 50 woman for granted; she just may surprise you." Though, I admit, the asymmetric zipper on this next top isn't as defining as the ruffles--which I also like.
Jones New York Zip Front Cotton Shirt With Ruffles
The comfortable v-neck seems to be a staple for most women over 50 I know. Here's a Hessnatur
Organic Cotton V Tee
, available in 9 different colors.