I've "battened down the hatches," so to speak, in preparations for Hurricane Irene. "Mean Irene" as she's being called is scheduled to reach the New York area early Sunday morning. The NYC subway system has shut down. Home owners on the waterfront have boarded windows, many have evacuated. My husband and I have taken in the porch furniture and potted plants. The local cinema has taken down the plastic letters on its marquee. The hardware store is out of "D" batteries for flashlights and duct tape. There's not much more to do, but wait. I figure I might as well file a fashion post today; chances are there will be no electricity tomorrow.
Tuesday night I was in Soho, having dinner with my husband and my youngest son. It was a lovely night and the restaurant had its exterior glass walls opened for a semi-al fresco dining experience. As I dined and chatted with my men, I noticed woman after woman in garments with thick stripes pass by. It seemed like every second or third woman was in a thickly striped blouse, dress or long skirt. One woman was wearing an outfit very similar to the
Karina Grimaldi Biscot Long Sleeve Dress
($196) at the top of this post. What kept it from becoming a boring parade was the fact that there was such variety in garments' colors and designs. None of the women wore the classic French boat neck's thin blue-and-white stripes, which were de rigueur last spring. The trend now appears to be bolder stripes, more like the prison stripes of bygone days. With so many colors and styles, there's bound to be a stripe garment that will flatter every over 50 woman. I've gathered a sample of designs online to give you a visual of what I saw the other night. As always, click on the photos if you want details or a close up of the garments. And if "Mean Irene" has already barreled through your town or is expected to, take care.
STRIPE FRIGHT? NOT TO WORRY
I suspect we all learned in junior high home economic class that horizontal stripes make a woman look fat. The rule is not without merit, but it's not hard and fast either. I have a light blue-and-navy stripe T-shirt that I wear with a straight jean skirt. People have actually asked if I've lost weight when I wear the top! I think the horizontal stripes work because I wear them with a straight skirt. I might try a top like the
Free People Fluff Wide Stripe Pullover
($108) just above with a straight skirt in a bright shade, maybe teal or sapphire.
Bold stripes in colors that aren't too contrasting seemed to work well. Take, for instance, these next two sweaters from
Jones New York
.
Jones New York Long Sleeve Cotton Drape Neck Sweater

,
($109)
Jones New York Rolled Cuff Button Front Cardigan,
($89)
And, I'm absolutely mad for this green-and-gray designer sweater from
Shopbop
.
3.1 Phillip Lim Metallic Stripe Cardigan
($575)
The stripes on this
Vince Striped Boat Neck Tee
($135) aren't particularly bold, but they show how stripes in subtle colors are sophisticated and flattering.
Here's one last sweater that's a variation on two current trends: stripes and the color blue.
Jones New York 3/4 Sleeve Boat Neck Sweater,
($99)
To wrap up (pun intended) the bold stripes conversation, I offer this
Sonia Rykiel Stripe Fringe Poncho
($1,285). Last spring I saw a statuesque over 50 woman in a wool poncho. The poncho fell nicely, not too bulky, and it was balanced by her lovely long legs in jeans. I'm going to have my eye out for ponchos this fall. Although, a woman will probably have to have Anna Wintour's clothing allowance to afford this one, I thought I'd share it.
And finally,
Karen Kane
has several moderately-priced, wide striped garments in its collection. Click on
Check-out New Arrivals at KarenKane.com
a
nd enter "stripe" in the search bar at the top.
CLASSICAL STRIPES
Do you prefer the classic stripes--one stripe in white and both stripes thin?
Hessantur
offers this
Organic Cotton Tee
in tiny, tight indigo, nougat, or light gray heather stripes.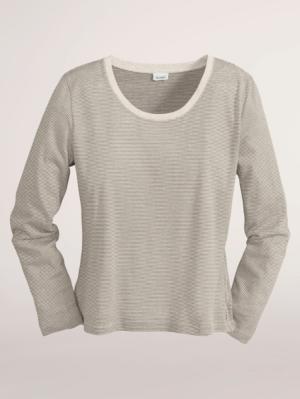 Or take a peek at this
Organic Cotton/Linen Dress
($98). I love the way the stripes fold on this ultra-comfortable and stylish dress, don't you?
STRIPED ACCESSORIES
And don't forget those striped accessories. Besides the classic striped scarf, I'm seeing striped clutches and even striped jewelry like this
Adia Kibur Chain Stripe Necklace
($68).