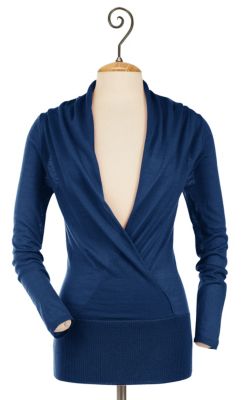 I'm writing to share my latest clothing discovery—
Soft Surroundings
. I found the fashion site over the recent three-day weekend. Perhaps, it was the harsh New York weather or the fact that life can be, well, a little harsh, but the name,
Soft Surroundings
, just sounded so nice and cozy. As the name suggests, there are lots of tops and bottoms in soft fabrics, like the
Antigua Sweater - Blue
(was $79.95,
now $21.99
) above (also available in balsam and orchid). I love tops with deep draping worn with a camisole. So feminine!
But what I'm really thrilled about is the large selection of unique, boutique-like styles. There are about three dozen different tunics alone on the site! And most of them look finger-tip length (that is, mid-thigh), which tends to be a great length for women over 50. There are also some great sweater designs like the
Women's Paris Pullover - Brown
($98.95) below, which would look great with leggings. In general, the unique designs are moderately price. However, until January 30, many styles are on sale. Click either of the photos to go directly to the site or click on
Shop Out Winter Sale Catalog! Find many wonderful items at discounted prices. Hurry, Sale Ends January 30.