A while back, a
Flattering50
reader commented: "I'd like to see more skirts that aren't pencil, full or maxi-length." She noted that she liked one of my flared skirts in the post because it was "nice without being voluminous." I was thrilled to get the comment because I've been thinking the same way. I'm under 5'5" and find a typical "full skirt" overwhelms me with too much
volume
. And while I'm very fond of my pencil skirts, they shout "office work" to me. A flared or A-lined skirt is a comfortable and fun style for casual activities. (Though, most flared skirts can be styled for work as well.)
I've been reading that the flared skirt is a trend this spring. So...I poked around the web to see what I could find. I'm happy to report I found a nice assortment of flared and A-lined skirts hemmed around the knee or just above--perfect for women over 50. Take, for instance, the
Jones New York Graphic Print Pleated Skirt (Green, Size 14)
($119) above. Click "Read More" below to see the other skirts I found.
SPRING SKIRTS
Do you a particular flared skirt you'd like to find for spring? Perhaps, one made of knits, soft cotton, denim or leather? Do you prefer solids over prints? Or stripes over florals? Regardless of your taste in skirts, there's a spring skirt for you.
This cotton
Taxicab Skirt
($56)
from Shabby Apple
should satisfy the over 50 woman looking for something classic. By the way, white and yellow are a very popular color combination this spring.
Spring leathers and metallics are all the rage, too. Here's a gorgeous
Jones New York Metallic Leather Skirt (Brown, Size 12)
(was $399,
now $319
) for those cooler spring days.
Here's an ultra-simple
Knitted Skirt
(was $138,
now $103
) by the
Pure Collection.
You can have fun accessorize it. Top it off with a sweater with a graphic print
or
a blouse bursting with flowers
.
O
r
...
how
about a simple T-shirt,a statement necklace and a denim jacket?
Personally, I never get tired of the extremely versatile A-line
denim skirt, like this stone denim
Button Through Skirt
(was $124,
now $93
). It's also available in blue denim.
EASY-GOING JERSEY
It's not a bad idea to throw a jersey skirt or two into your mix of flared skirts. They usually are made with a bit of comfortable spandex and can be washed in the machine or by hand. You'll find jersey skirts in
solids, like this
Women's Regular Knot Waist Skirt - Wild Cherry
($44) from
Land's End
....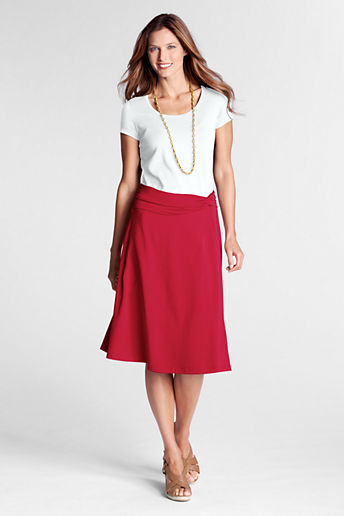 Or how about an
Old Navy Womens Fold Over Jersey Skirts
($19.94) in pink stripes? This skirt style actually comes in 11 colors and prints.
PRINT POWER
I'm sure it won't surprise you to know there's a wide variety of prints--tribal, graphic and animal prints as well as classic polka dots and florals--this spring. Here's a threesome of trendy black and white prints...
Anne Klein Ikat Print Skirt (White, Size MD)
($69)
Jones New York Floral Pleated Skirt (Black, Size 14)
(was $119,
now $59
)
Jones New York Graphic Print Skirt (Black, Size 10)
($119)
KNIFE PLEATS
Did you invest in a knife pleat skirt last spring? If so, you'll be happy to know their back in style this spring. Here's a pair that don't look too voluminous...
Colorblocked Pleated Skirt
($98) from
Ann Taylor
Floral Print Pleated Mid Length Skirt
($69) from the
LOFT