I like to look at swimsuits in March; it gets me excited about all things summery. I am, however, a little reluctant to post about latest swimwear trends on
Flattering50
. For one thing, the only place I could imagine wearing many of this year's swimsuit designs is in my worst nightmares. And, then, there's the problem with visuals--most swimsuit models are, well, young bathing beauties. Hmm--what to do? Will the
Flattering50
reader allow me to share some of the trends with photos of young women with--for the most part--realistic body shapes? Well, that's what I've tried to do in this post on 2013 swimsuits for women over 50. Several of the swimsuits are on sale right now, like
Longitude White Carnaby Plus Size Surplice Swimsuit
(was $99,
now $69.99
) above from
Shop Swimsuits ForAll.com
. By the by, Swim4All is offering
Sitewide Pre-4th of July sale - Save an Extra 35% off at swimsuitsforall.com
thru July 2nd.
To view more 2013 swimsuits for women over50, click...
HOT PRINTS
It always amuses me the way swimsuit trends follow the trends in street clothes. The hot 2013 swimwear colors is a perfect example. Head to the beach and you'll probably see a lot of emerald, hot pink, orange and purple--the same bold colors popping up in everything from lace dresses to skinny jeans this spring. Below are a few examples. Click on any of the photos or hyperlinked text for details, additional sizes or to shop the collections.
At
Land's End
, you'll find a huge selection of tankini tops and swim bottoms--shorts and skirts. I love swimsuit separates because I'm pear-shaped (my upper half is much smaller than my lower half). To get the right fit, I can buy a top in one size and a bottom in a different size. By the by,
Memorial Day Sale! Save 40% off all Swimwear at Lands' End. Shop today for the best selection. Plus get free shipping over $50. Hurry, sale ends 5/28/13.
Here's a tankini top in a deco print--very retro. Further down, I talk a little about the "retro" trend.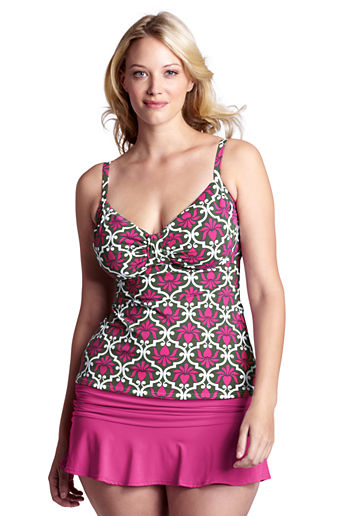 Women's Plus Size Beach Living Deco Shirred Tankini Top - Azalea Pink Deco Floral
Navy blue is another trendy color this season. I love this color combination...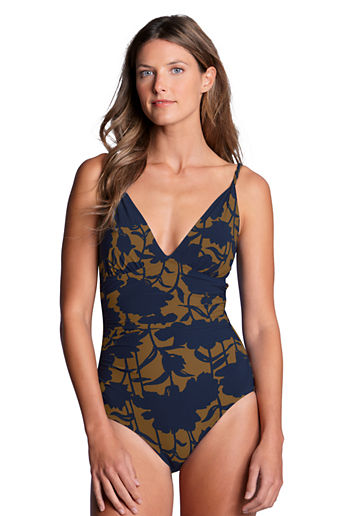 Women's Regular Shape & Enhance Floral Twist Strap One Piece Swimsuit - Oak Moss Floral, 6
($99)
And here's a swimdress from
Swim4All
.
b. belle Green Island Safari Plus Size Twist Front Swimdress
(was $78,
now $39.99
)
And for the animal print lovers, here's a colorful version...
Swim Sexy Purple Animal Chic Plus Size Sarong Front Swimsuit
($78)
WHITE AND BLACK
The black and white trend, which was huge this winter, isn't showing any signs of disappearing. If the number of black and white swimsuits online is any indication, we'll be see a lot of the color combo on the beach this summer. Here's a black and white swimdress...
Women's Plus Size Royal Paisley Tulip Slender Suit Swimdress - Black Royale Paisley
($154-$164)
There are also lots of solid white and solid black one-piece suits as well. I saw more swimdresses on women over 50 last summer than I had in decades. I love the way they look on women of all shapes and sizes. Here's a Land's End swimdress that looks so sophisticated. What do you think?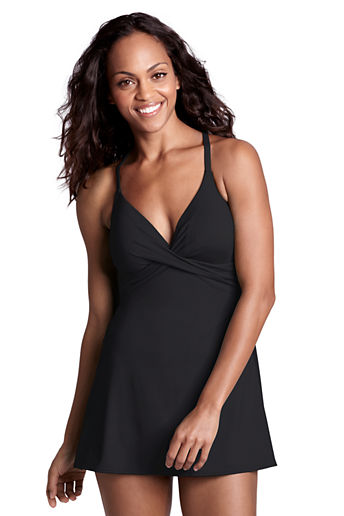 Women's Regular Beach Living Swimdress - Black, 18
($89)
RETRO
I suspect the growing popularity of swimdresses is a reflection of the retro swimsuit trend. Although polka dots circle back into vogue on a regular basis, they'll always look retro to me. Here's a couple of polka dot styles...
Women's Regular Shape & Enhance Dot Halter Tankini Top - Orchid Wine Shadow Dots, 14
($89). I love the matching
Women's Regular Shape & Enhance Ultra High Rise SwimMini - Orchid Wine, 14
($89) (below) with the draping and tummy control. As a side note, I bought a Land's End tankini top and bottom three years ago and it still looks great--no fading or fraying. An excellent value for this gal on a clothing budget.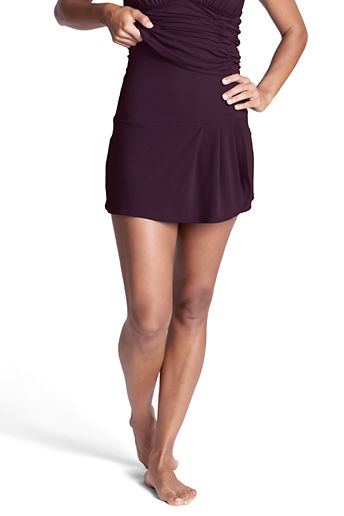 And here's a well-priced polka dot suit from
Old Navy...
Old Navy Womens Plus Ruched Polka Dot Swimsuits
($54.94)
I have narrow shoulders, so the retro halter top design works well for me. (Although, I have a friend with broad shoulders who also loves halter bathing suits.) Here's a halter style from
Shabby Apple
.
Mission Beach Halter
($45)
BEJEWELED BATHERS
Embellishments such as jewels, mesh and string are also popular this season. Unfortunately, I could find any examples that I thought would flatter over50 women. (They were all a little too revealing, I'm afraid.) If you'd like to try a suit with beads, sequins and so forth, I'd look at the major department store websites. I bet you'll find some there. Tie-dyed swimsuits are also making a comeback. I'm having a hard time imagining a tie-dyed suit that would flatter a woman over 50. Send me a link, if you find one.
WANT MORE SWIMSUITS?
If so, take a peek at
Swimsuits Over 50: Where to Shop