Lately, I've been writing about spring's new dresses. Not surprisingly, many of the warmer-weather styles are sleeveless. I know sleeveless tops and dresses are a "no no" for many women over 50. And it's super important to do what makes you feel comfortable. However, personally, I hate to
pass
on a gorgeous dress just because it's sleeveless. As mentioned earlier, I'd rather wear the sleeveless dress and "arm" myself with a cropped knit cardigan or jacket. Another flattering sleeveless dress solutions for women over 50 is the lace top.
LOVELY LACE SHIRTS
While I was in Paris (I love saying that!) two years ago, I noticed Parisian women our age wearing lace tops over sleeveless shells and dresses. I was ga-ga for the look and bought a lace top at a boutique (above) on Rue Des Francs Bourgeois in Le Marais (the closest Metro stop is Hotel De Ville). I've worn my lace top constantly every since. It's lightweight, feminine and offers arm coverage without making me look like I'm hiding something--my arms, that is. Unfortunately, I've combed the Internet for similar lace tops and haven't found much of a selection. In fact, I only found one similar top: this fabulous
Diane von Furstenberg 'Lorelei 2' Sheer Lace Shirt
($298), which is available in black as well...
LACE BLAZERS
In lieu of a lace shirt, my next choice would be a lace blazer. For instance, there's this very cool
Nikki Rich Geometric Lace Blazer
($162) (below). (I'm not recommending that you pair it with lace hot pants, however. My goodness no!)
Or take a peek at this great looking, well-priced
LOFT Lace Blazer
($138). It's available in sizes 2-18.
THE LACEY CARDIGAN
For a bright lacey look, Soft Surrounding has a pair of
Celine Crochet Cardi - SUNSET CORAL
($98) in pink or yellow. On the clothing companies website, the cardigans are styled with a collared shirt or simple shell top (below). I like both of these choices with the lace sweater because they are simple and structured. It's important to balance the ultra-feminine lace top with a dress or top that has clean lines to avoid looking like a grandma.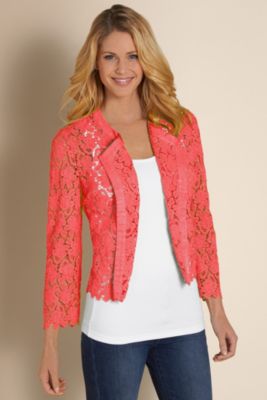 If you see any other lace shirts, cardigans or blazers, please leave a comment. I would love to add another lace top to my wardrobe and I know some of my readers would, too. Thanks!
THE SHAWL SOLUTION
Unlike the elusive lace shirt, lace shawls are everywhere! A lightweight, lace shawl draped over your shoulders and upper arms is a very feminine "arm coverage" solution for spring and summer. To view some of the many,
many
lace shawls, just Google "lace shawl." You'll find a huge selection of styles and prices. Or to get you started, take a peek at the huge selection at
Etsy
or
Amazon.com
LET'S GO TO THE VIDEO FOR...STYLE INSPIRATION
My trip to Paris provided lots of style inspiration that is still informing the way I dress today. If you don't have time to drop in on one of the
style capitals
--New York, London, Paris or Milan--you might like to take a peek at the
style videos
at the
New York Times
. In addition to style enthusiast Bill Cunningham's brilliant video reports on New York street style, there are videos on street style in Paris, London and Milan. The videos are a lot of fun to watch and...inspiring.