I'm thrilled denim is "in" for spring 2011. (Did you realize it had been "out"? Me neither.) It's a great fabric—comfortable, versatile, durable, and easy to care for. In a recent post on Chambray, a light-weight denim fabric, I mentioned that the "hot" denims for this spring have minimal styling and are made with a variety of denim fabrics and blended fabrics (see
Spring 2011: Chambray on the Way
.) While the trendy minimal styling is eye-catching, it's not always flattering for women over 50. Fortunately, there's lots of denim with traditional Western styling for spring as well. Given the choice between a minimal, boxy tunic and a more tailored, Western styled denim shirt, older women will usually look best in the more tailored top.
To view some of the many ways designers envision denim for spring 2011, visit Elle magazine's slide show of
Stella McCartney's
spring line. Most of the models in slide 5-16 are dressed in denim. Slides 1-6 of the slide show of
Derek Lam
also feature denim fashions.
Right now, I'm not finding many minimally-styled denim fashions online, except on the websites of the very high-priced designers. I assume this will change as department stores and labels unload the last of their winter wears and finish rolling out their spring lines. But if you want to get a jump-start on your denim shopping for spring and like the Western styling, there are lots of possibilities. Take, for instance,
Tencel Denim Shirt Dress
for $188. Below are more denim choices. While most of the garments pictured are blue, denim continues to be shown in a variety of colors--white, gray, green, black, even pink.
Meanwhile, for the next 24 hours or so,
Jones New York
invites you to add jeans to your order and receive 30% off your entire purchase until February 13th @ 11:59 EST. Click on the Jones jeans below to get to the jeans and the special offer.
DENIM TOPS
From
Hessnatur
...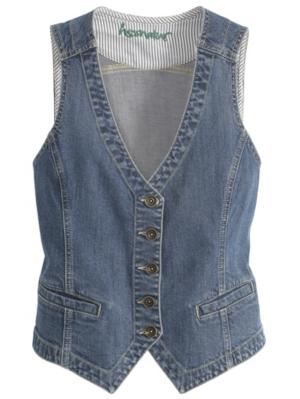 Organic Cotton Denim Vest
for $85
From
Jones New York
...
Jones New York Long Sleeve Denim Button Down (Denim)
for $59
Also you'll find a
Denim Shirt
for $65 at
Banana Republic
and a
Denim Shirt (dark wash)
for $49.50 at the
Gap
.
DENIM SKIRTS AND DRESSES
From
Hessnatur
...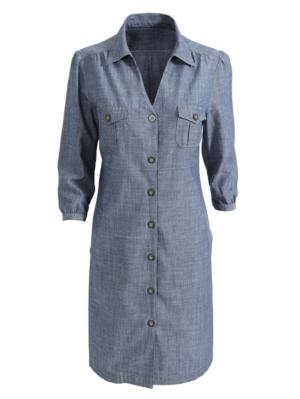 Organic Cotton Dress
for $108
From
Pure Collection
...
5 Pocket Western Skirt
for $114 in two colors.
From
Hessnatur
...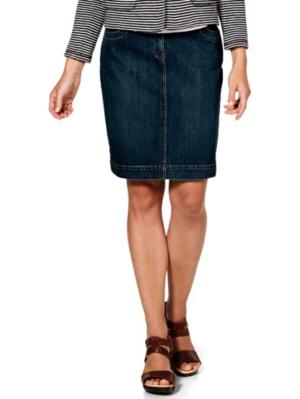 Organic Cotton Jean Skirt
for $75
Also, check out the
Not Your Daughter's Jeans® Tummy Tuck® 'Emma' Pencil Skirt
at
Nordstrom
. The skirt is made of stretch denim and has crisscross fabric panels to flatten the stomach and lift the rear.
My posting entitled
Jean Skirt Alert
from last summer may give you some leads as well.
JEANS
True confession: I haven't worn blue jeans in 20 years. I don't have great legs (an understatement) and I just gave up trying to find a pair that didn't look awful. Instead, I wear black jeans, which I find less offensive. I buy the majority of my pants at
Talbots
because the the label's fit works for me and the pants are well made. I bought two pairs of Talbot black jeans a couple of years ago and they still look new. Click
jeans
to see the label's current jeans collection.
Though I haven't been a
blue jean baby
for years, 2011 may be the year I try
Not Your Daughter's Jeans®
. It's on my "to do" list. I went online at
Nordstrom
recently and couldn't believe how many different jean styles the NYDJ label has.
Meanwhile, it looks like
Jones New York
has followed
Not Your Daughter's Jeans®
lead with their own version of flattering jeans. The
Jones New York The Signature Shape Jean 33 In (Denim

)
are designed to flatter your curves and flatten your stomach. There's a built-in control panel and a contoured waistband. The pants, available for $79, are priced a little less than the
NYDJ
styles. They also run a little bigger, so you may need to buy a size smaller.


Jones New York
actually has a wide selection of jean styles, including the
Jones New York Classic Fit Tappered Jean (Woman) (Green)
below. I think these trendy, smoky green jeans would look great with a black or off-white sweater. They're currently reduced from $49 to $39.99.
Want more choices? Well, you know you're going to find lots of jeans at
Calvin Klein
and
The Gap
.
DENIM JACKETS
From
Hessnatur
...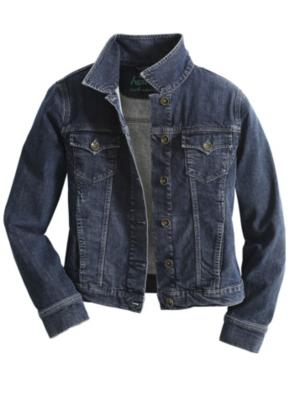 Organic Cotton Denim Jacket
for $108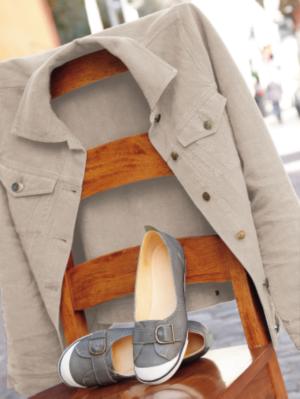 Hemp Denim Shirt Jacket
for $158
Another possibility is
Jones New York Denim Shirt Jacket
available for $69
Finally, check out the
Denim Blazer
for $69.60 at the
Gap
and the
Chambray Hooded Jacket
for $150 at
Banana Republic
.