Photo credit: William Werber
White as a trendy spring 2011 color hardly seems like news. White is always associate with spring, especially spring weddings, and summer—isn't it? There are two things, however, that make white a little different in 2011. First, designers have envisioned women wearing white head-to-toe or combining a solid white pair of pants or skirt with a solid bold (especially yellow or orange) top. Designer Alexander Wang showed almost an entirely white collection for spring 2011. And secondly, the designers don't want women to stop wearing white after Labor Day. The fall 2011 collections unveiled this month during Fashion Week in New York City were heavily populated with bright white fashions—such as dresses and pant suits. (The photo at the top of this post was taken at a fall 2011 show.) That means women over 50 may be wearing this season's white straight through to Halloween and beyond. Interesting.
Chances are you've already got a good base of white spring and summer fashions. But if you'd like to freshen up your white wardrobe, below are a few trendy ideas. If, like me, your color season is "winter," then white should be flattering choice. However, now that I'm in my fifties, I tend to lean towards the brighter shades in the "winter" palette. For example, when I wear a long, white tunic, I love to wrap a thin, icy blue scarf around my neck.
WHITE TUNICS AND OTHER TOPS
Long tops are a flattering choice for women over 50 and tunics are still a trend this spring.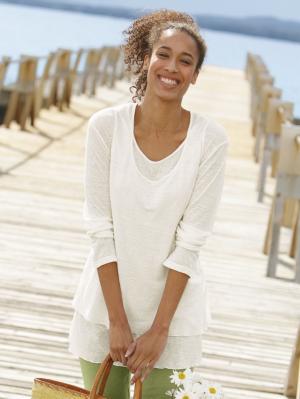 Pure Hemp Tunic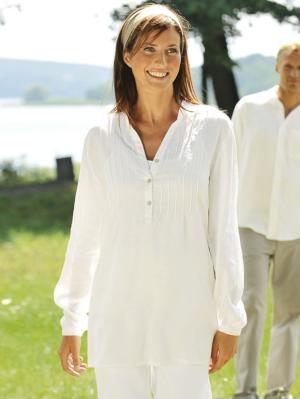 Pure Hemp Tunic
No doubt, your favorite shopping sites will have tons of white blouses and shirts. I like the pocket details and tailoring on this
Anne Klein Roll Sleeve Shirt Roll Sleeve Blouse (White)
. If you're pear-shaped like me, you don't want a boxy top. And, of course, wearing the shirt out is slimming. I don't think I've tucked a shirt in since I turned 40.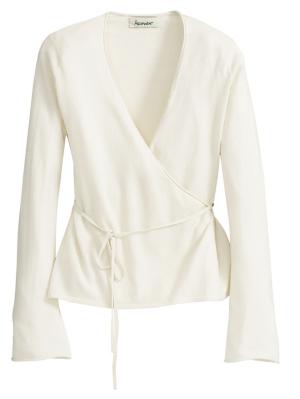 Silk/Cashmere Wrap Cardigan
from
Hessnatur
Jones New York Drape Front Cardigan (White)
Laundered Linen Scoop Neck Top
Linen Jacket
WHITE BOTTOMS
Again, I'm not surprised if your wardrobe already includes a white denim skirt, white trousers or white cotton flirty shirt like the ones I showed recently in
What To Do With Floral Shoes
. If you have a white linen jacket and a pair of white linen pants and you've never worn them together, this is the season to start. Or if you've wanted to add a white bottom to your wardrobe, now is the time. You'll find lots of choices across the Internet. If you've got skinny legs, you might want to try white denim shorts--tres adorable--as an alternative to the white Capri or jeans. Or just grab a good quality, fitted cotton Tee and a pair of white Capri pants for the easiest, trendy look.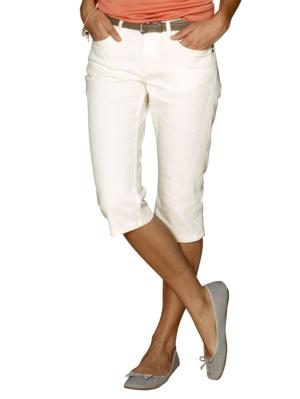 Organic Cotton Roll-up Jeans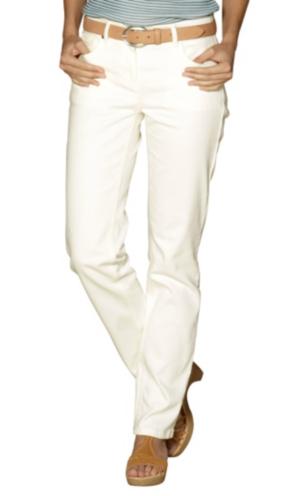 Organic Cotton Jeans
STRETCH POPLIN CAPRIS-8-WHITE
WHITE DRESSES
I can't tell you the last time I wore a white dress. I like these two a lot, however.
Pure Linen Safari Dress
Bonheur