Capris and cropped pants are great summer choices---they offer something more than shorts without the extra weight of long pants. They come in so many different fabrics, colors and lengths, that it's very likely there is a pair of Capris or cropped pants to flatter every over 50 shape and style. However, while I equate Capris with care-free summer days, a little care is needed when creating your Capri look. The two most important consideration: 1) Capri fit and 2) the top that's worn with the pants. For this post, I'm focusing on the pants themselves. For my next post, I'll show tops that might look great with Capris.
BASIC BLACK AND WHITE
Basic black and white Capris, especially those hemmed just above the ankle, are great for the office and casual evenings. I've seen younger professional women wearing blazers and matching Capris to the office.
These
Anne Klein Slim Capri
(was $79,
now $46.99
) have a side zipper, which means less bulk across the stomach. I'm all of that! These pants are also available in black. Click on the photo to see other Capri styles at Anne Klein.
AU NATUREL
I love the Capris in khaki or olive for the same reason I love black and white ones--neutral colors can be styled with so many different colored tops.
Jones New York Slim Capri with Front Pockets
($74)
From
Shopbop.com
...
Vince Scrunch Crop Pants
(was $195,
now $58.50
) in sizes 8 or 10 only.
FAB FABRICS
Cotton jersey? Linen? Denim? You'll find Capris in a wide range of fabrics. Denim and cotton jersey are great for down time--shopping and barbecues. The white
Cropped Jeans
(was $114,
now $85
) at the top of this post are from
Pure Collection
. Below are a pair of
Jones New York Classic Denim Straight Leg Capri
(was $49,
now $39
). Jones is giving an
additional 30% off on these and other pants at checkout for a limited time
. Click on the photo to see more choices.
Cropped Linen Trousers
(was $128,
now $80
)
These
Jones New York Linen Capri Pant
($89), with the flattering stripes, are perfect for dress-down office days.
CUT OF THE CLOTH
If you're not finding the right Capris for your shape, don't fret. With a little perseverance, you'll find a match. All my girlfriends have slim legs and look great in a pair of pants like these
Organic Cotton Cropped Pants
($48)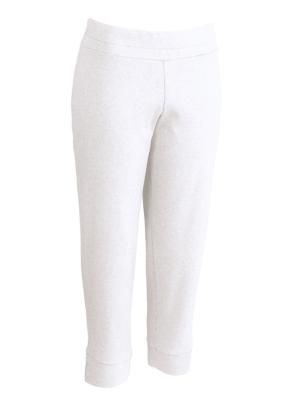 Sadly, I don't have great legs. So I avoid form-fitting skinny Capris in dark colors (especially black and dark denim) that are hemmed just below the knees. Those dark, shorter Capris only exaggerate my thighs. A pair that's a little more loose-fitting, longer and in a lighter color, such as khaki or white, looks better. Take, for instance, these very comfortable white
Organic Cotton Cropped Pants
($48). For me, it's a bit of a balancing act. Too much room and the pants make me look bigger than I am.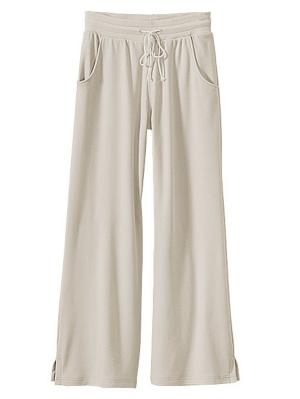 I also look for Capris in a lighter-weight fabric to limit the bulk factor. I'm loving these
Kasil Workshop Taylor Jacobson Artisan in Grey Chambray : Kasil Workshop Women
($165) from Candy Couture.