Editor's Note:
This post was updated
May 2013
.
Looking for a new suit for spring 2013? Once again, suits in neutral shades--white, grey and sand--are
the
look. You'll find a nice online selection of suits with classic menswear-styling as well as suits with more feminine lines and textures. While you can find suits with a matching jacket and skirt or pants, fashion's obsession with "mixing things up" has led to an explosion in the pairing of jackets and bottoms that aren't the same color, pattern or texture.
Take, for instance, the
Cropped Jacquard Jacket
(was $198,
now $148.50
for
Flattering50
readers) above from Pure Collection above. This versatile jacket can be dressed down with white jeans as shown or dressed up with a white skirt, sheath or slacks.
There are also advantages to both the trendy unmatched jacket and bottom as well as the the more traditional suit sets. This post explores the options for over 50 women. Unfortunately, the fashion photos are of young babes. I hope you can look past their perfect skin and boyish figures to the clothing's designs. Click on any of the photos for details and to shop other suit styles.
WHITE NOW
I
love
the all-white suit this spring. It's probably my favorite suit style for matching the jacket with the bottom. I've seen women go total white with a white shell under the jacket. I'm afraid I'd look too washed out. Instead, I'd wear a colorful camisole or silk scarf to brighten up my face, which is still recovering from winter weather.
I'm also a huge fan of the 3/4 sleeves for tops. Take a peek at this Ann Taylor
Fringed Tweed Jacket
($178). The sleeves look great on women over 50. There's also matching
Fringed Tweed Skirt
($88).
SAND WOMAN
Beige, sand, champagne—all the pale brown shades are hot this spring. I love the jackets with tuxedo styling, like the
Anne Klein Tuxedo Jacket (Metallic, Size 8)
(was $179,
now $89
) (the website calls the color "champagne") below. There is a matching
Anne Klein Tuxedo Skirt (Metallic, Size 10)
(was $89, now
$39
). Both pieces are available in limited sizes--hence, the great discounts. I think it also looks great with the red slacks. Where a unmatched jacket and skirt or slacks can be a more energized look then the traditional suit. However, I think this jacket and skirt would be fabulous choice for attending a spring wedding.
Or, if you prefer, the more traditional
Anne Klein One Button Blazer (Brown, Size 14)
($169)...
And here's a
Linen One-Button Stellita Fit Jacket
($325) from Brooks Brother. It looks awfully nice with the dark sheath underneath. The jacket is also available in white.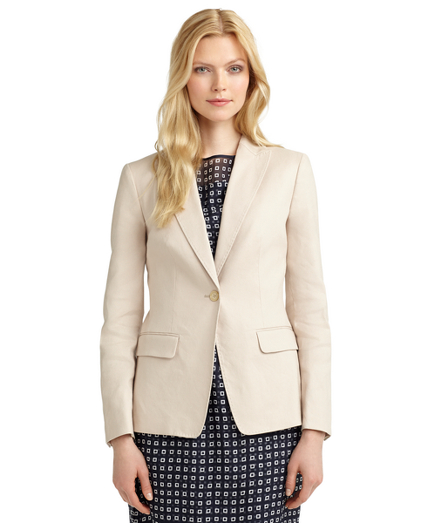 STONE AGE
Pale shades of grey aren't among my flattering "season of colors." However, that doesn't stop me. I have a light grey suit that I'm planning to wear with hot pink or coral shell to brighten it up.
Here's a beautiful
Jones New York 1 Button Notch Collar Jacket (Brown, Size 14)
($199) (The website calls the color "mushroom.") There's also matching
Jones New York Flat Front Career Pant
($109). I love the way the tuxedo jacket I showed earlier is paired with the trendy red slacks. However, the benefit of have a suit with a matching top and bottom, or at least, a set in a similar hue, is that the continuous color scheme from shoulder to hem is very slimming. And slimming is good, right? Here's a couple of examples...
And here's a
Petite Melange All-Season Stretch 3/4 Sleeve Jacket
($148) (Available in Regular sizes as well). If you are looking for a matching suit, this style has the option of either a
Melange All-Season Stretch Peplum Pencil Skirt
($78) or
Petite Modern Melange All-Season Stretch Trousers
($98) (again, available in Regular sizes as well.)
Or for a more traditional
Melange All-Season Stretch Two Button Jacket
($178). Once again, there is a matching
Melange All-Season Stretch Pencil Skirt
($78) or
City Melange All-Season Stretch Trousers
($98)