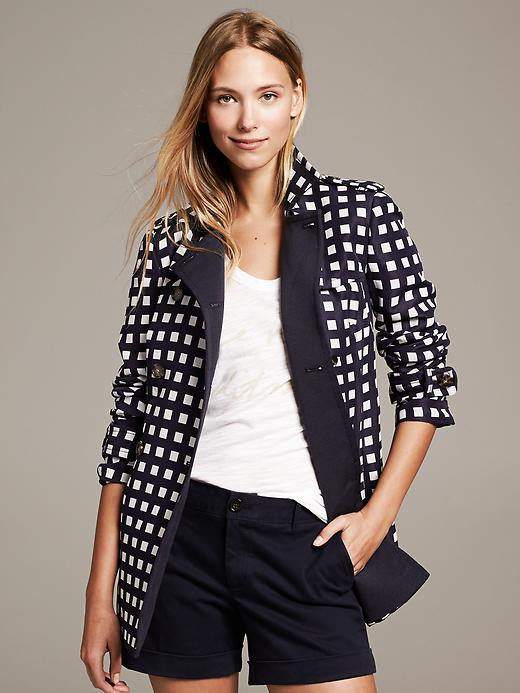 Editor's Note:
Before I start this post, I just want to congratulate Deborah S. Deborah's name was randomly selected as the winner of the recent Flattering50 Sweater Giveaway. She has won a cardigan by designer Ronen Chen. Meanwhile, there is still time to enter the Flattering50 Topaz Necklace Giveaway. For details, click HERE.
In my last post, I modeled my
bright-colored spring coats
and shared some online shopping sources. This spring, I'm also mad about rain coats with prints. Talk about energizing! A printed spring coat is a great way to shake off old man winter once and for all. Also, prints hide all those little lumps and bumps, making them a flattering choice for women over 50. If a printed spring coat appeals to you, I don't think you'll have any trouble finding one--they're everywhere! There are raincoats with geometric prints like the
Banana Republic Gingham Trench - Preppy navy
(above) as well as fun, floral print and animal print coats. This post features one or two of each.
UPBEAT PRINTS
I will be absolutely shocked if my next spring coat doesn't have a print. Here's a very upbeat floral coat from Land's End. It's available in Regular as well as Petite, Tall and Plus.
Women's Regular Pattern Coastal Rain Coat - Sandy Pink Floral, M
Jones New York Double-Breasted Classic Trench Coat
Ann Taylor Zebra Jacquard Topper, Dark Sky - Medium
Kenneth Cole New York Dot Print Asymmetric Trench Coat
Penfield Print Weatherproof Mountain Parka