Today was warm enough to go out in just a heavy sweater, skirt and tall boots. Though not quite warm enough for a light trench coat, the balmy weather suggested that spring is on the way. Plus, I spotted the first yellow crocus, pushing through the garden dirt over the weekend. So this evening I went online to see what the Spring 2011 outerwear trends are and which designs might flatter women over 50.
The classic trench coat--either in traditional beige, military green or a knock-out primary color--is all over the web. In general, I'm a huge fan of classic styling for women over 50. I love when women take a couple of classic separates and then use an unexpected color and accessory to individualize their look. While stumbling around the Internet, I came across a slide show on
ageless styling
at
Harper's Bazaar.com
. To show how classic styling is ageless, the slides features women over 50 along side younger women, each wearing the same outfits. Okay, the over 50 women are stunning, but I think the point is made. Check it out.
As for this post, I'm loving the military-ish styling of the Anne Klein trench at the top of this post. The utility detailing is edgy, but not overly masculine. Tired of the trench coat? Check out the brightly colored
anoraks
that are in vogue again this spring. As you know, I love these jackets on over 50 women. Below are a few of the spring 2011 styles as well as links to other shopping sites.
Click on the photo if you want more details about a particular coat.
SPRING 2011 COATS: A SAMPLING
Citrus colors--lemon, orange and lime--are "hot" colors this spring. Here's an Anne Klein trench that is both trendy and on sale, reduced from $199 to $149.99.
If citrus colors aren't flattering for you, perhaps, this raspberry trench in polyester/rayon is. It's on the Anne Klein sales rack,
currently reduced from $199 to $98.99.
Unfortunately, it's only available in L and XL.
Or for a more traditional trench, check out the trendy neutral colors at Jones New York.
Until March 6th, Jones is offering 20% off on all spring merchandise
. Click on the photo or the sales box at the left for the rest of the spring collection.
The
Jones New York Trench Coat Single Breasted Belted Trench (Yellow)
above is currently reduced from
$189 to $74.99 plus 30% off at checkout.
The single breasted styling gives it a more feminine look. The coat, unfortunately, is a clearance item and is only available in Medium. But if you can wear Medium, what a deal!
Or, how about this
Jones New York Jacket Trench Coat (Black)
? It's priced at $167.99 with 30% off at checkout. The coat is available in all sizes.
Personally, I'll take a black or bold color trench coat over a beige trench any day. Traditional trench beige is a little too ho-hum for women over 50, I think. That said, I love the short trench, even in beige, I'm seeing this spring. Check out this one from the Pure Collection. It's length makes it fun and a little unexpected. The coat is also available in navy.
TRENCH ALTERNATIVES
Neutral colors--especially white and nude--are just as hot as the citrus colors this spring. If you like the versatility of a beige coat, but don't want a trench, there are single button coats like the one below. See the band that starts on either side and crosses the back? I have a coat with a similar band. My coat flares a little from the band, which is a good style for women like me, who are a little heavier on their bottom half.
Lastly, a long sweat jacket won't protect you from April showers, but it's a great "between seasons" choice. I have a hoodie sweat coat that falls around my calves that I'm crazy about. I find it especially useful when a day out turns into a night out. I'm glad to wrap myself up in the soft sweat fabric. I got my long sweat coat at a little boutique, so I can't give you a lead on it. However, the cotton sweat jacket from
Hessnatur
below (though not as long as mine) is a great look.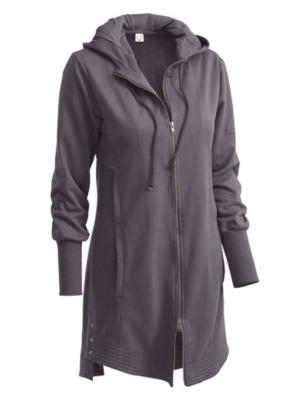 Also, you might want to check out...
The High-ridge Twill Coat at
Talbots
The
Tunnel waist coat
(reduced from $89 to $79.99) at
Banana Republic
The
Double-breasted Pea Coat
at
Michael Kors
. I love the red color, of course. But I also like this longer length. The shorter Pea coats often hit over 50 women in the wrong place, accentuating the hips and thighs.
Coats and jackets at
Nordstrom
And, of course, the wide range of choices at
Macy's
. There's a
Nautica Anorak
in red currently on sale for $69.98.
I didn't find much in the way of spring coats at
Lauren by Ralph Lauren
. But the site
has 7 pages of
merchandise on sale under $50.