Recently, a
Flattering50
reader emailed me and wrote: "I'm going to a NY spring evening wedding. And my legs are pale, fat and blotchy. Are there fancy pants that would be appropriate? Can I still wear tights?" Thanks for the great questions! Since the first question focuses on "fancy pants," I'm going to assume the upcoming wedding is a relatively formal affair and not, say, a clam bake wedding at the beach. And since the words "black tie optional" weren't used, I'll assume the wedding isn't one of those. With that in mind, my short answer is: Yes, you can wear fancy pants to an evening wedding.
These days, I wouldn't say "anything goes" at an evening wedding, but there is a lot of style "wiggle room." You'll find guests at evening weddings in New York dressed in a wide variety of cocktail dresses, both skirt suits and pant suits, and, yes, even slacks. For a few ideas about wearing pants to a wedding, click "Read More" below. And scroll down for a thought or two on wearing tights to a wedding.
AN AFFAIR TO REMEMBER
The fashion gurus will tell you there aren't many fashion "rules" today. In fact, sometimes it feels like the #1 rule in fashion is to break all the rules! That said, as a woman over 50, I want to dress for a wedding in a way that honors the special occasion and the family. So…when trying to decide what to wear, the first thing I do is:
Make a few enquiries about the affair
. (Many years ago, I showed up in high-heels and a LBD for ceremony performed on the side of a mountain, by a waterfall. Have you ever hiked in heels? Now, I always ask ahead!)
Appropriate wedding guest attire will depend on the event's…
Time of day and the season
Type of venue for ceremony/reception
Global location in the US (ie, Northeast, South, Mid-west, West Coast) or abroad
Bride and groom's family ethnic background and expectations
WEDDING SLACKS, NEW YORK STYLE
If your wedding enquiries reveal that an untraditional event—say, a high-concept affair with a guest list of artist or fashion-forward folk—is planned, then you probably should consider slacks in a broad range of styles and colors. Some of the elegant colors this spring are metallic, peach, coral, indigo, emerald, mint green, gold and lots more.
For a more traditional New York evening wedding, you won't go wrong with a pair of slacks that are…
Black Rules
I know, I know, it's
such
a cliché, but New Yorkers love black. So…I recommend
dressy black slacks
for a NY evening wedding. That's not to say women will shy away from the hot 2013 spring colors completely; you'll probably see lots of colorful dresses and maybe a few colorful skirt suits. However, if you're planning on wearing pants, I'd wear a beautiful pair of black slacks and
add color from the waist up.
Or, perhaps,
black and white
. The 'black and white' look is trending big-time right now in NYC and I suspect it will continue through the spring.
Good Fit
Two springs ago, I attended an evening wedding in New York. One of the guests, a woman over 50, wore a pair of skinny, black slacks cropped a few inches above the ankles (long Capris?). She wore flats and a very un-dressy top. I remember thinking it was the perfect outfit for a neighborhood cocktail party, but a bit informal for the lavish affair we were both attending.
While I hate to make rules for other women, I would think twice about wearing slacks above the ankles to an evening wedding. Also, I think the slacks should be
a little roomy
--that is, straight with a little room all the way down, or flared or billowy. The best cut and fit will depend on your body shape and comfort level.
If you're looking for a little advice on the best pants for your body shape, take a peek at
Woman's Day
slideshow
entitled
The Best Black Pants for Your Body
. Personally, my favorite dress slacks have a side or back zipper. I want to avoid adding a bulky zipper, tabs and/or buttons to my stomach area. Also, I think it's a dressier look.
Good Fabric
I recommend you buy the best pair of black pants you can afford. When it comes to black slacks, I don't mind spending a little extra to get a beautiful pair because I know I'm going to wear them
a lot
. Is that because I'm a New Yorker?
My favorite fabric for dressy slacks is
crepe
. If the wedding is in April, a lightweight gabardine might be a great choice as well. (While snow in April is unusual, cold, miserable April showers are to be expected.) A nice polyester pair of black slacks is often very acceptable, if you're looking for modest-priced pants. Just choose a pair that is well-made. And as you probably know, lining really helps pants keep their shape.
WHERE TO SHOP
Looking for shopping sources for dressy black slacks? Here are a few...
Jones New York Platinum The Quarter Pocket Pant
($119)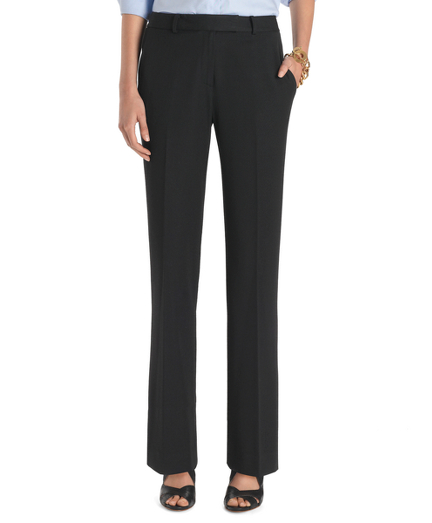 Plain-Front Caroline Fit Fluid Stretch Dress Trousers
($168) by Brooks Brothers
Crepe Side Tab Pants
($88) by Ann Taylor
HOLD ONTO YOUR TIGHTS
I
love
tights and pattern stockings; I wear them with skirts and dresses almost every day from September through April (and even on cold May days!). However, I would think twice before pulling on a pair of tights for an evening wedding.I just question whether they're formal enough for most evening affairs.
That said, women can wear
nylon stockings in shades of black, grey or dark blue
to hide their legs' little imperfections and still look very sophisticated in the evening. This choice, of course, will depend on your dress or suit skirt. I'm ga-ga for shear stockings with dots like these Ann Taylor
Dot Sheer Tights
($20). (I'm not sure why they're called tights.)
Well, those are my thoughts on pants and the evening wedding. I hope they help--if only to clarify your own thinking on the subject. Have a great time at the wedding!!
HAVE A STYLE QUESTION OR CONCERN?
I love hearing from readers!! If you have a question or concern, I'd love to help you find a comfortable solution. Leave a comment with a question or write me at flattering50@gmail.com