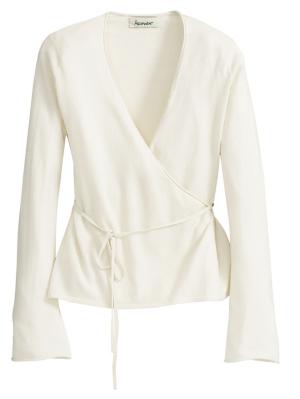 Yesterday, I took my car to the auto shop for a state inspection. My mechanic said he would do the inspection while I waited, so I arrived with a magazine to read. But, as I settled in a seat in the waiting room, I noticed a display of magazines and books in the corner. There, among several books with names like
Convertibles
and
Muscle Cars
, was a copy of
Harper Bazaar's Great Style: The Best Way to Update Your Look
by Jenny Levin. I nearly fell off my chair. "Where did that come from?" I wondered. I couldn't tell how old the book was (there was no copyright date), but the fashion trends and celebrity examples looked fairly current. So I picked up the edition and thumbed through it. Inside was all sorts of common sense advice about style at different ages and how to create your own personal style. For women over 50, Ms. Levin suggested starting with quality basics in solid colors and personalizing the garments through accessories--jewelry, purses and shoes. I don't think that's the only fashion over 50 strategy available to us, but it is certainly a simple, easy way to create a flattering look.
So I've chosen the
Silk/Cashmere Wrap Cardigan
from
Hessnatur
at the top of this post as
My Fashion Over 50: Pick of the Day
. It's a "basic in a solid color" and it's been reduced from $130 to $85. Lightweight sweaters are versatile, great for layering. And I love this sweater's trumpet sleeves--very feminine.
When I got home from the auto shop, I did a little research. The
Harper's Bazaar
book, which is available at
Amazon
, was actually published in 2007. I always feel like fashion is evolving at break neck speeds with new trends twice a year. However, this three-year-old book seems to prove that fashion mutates at a much slower pace. By the way,
Harper's Bazaar
has another style book called
Fabulous at Any Age
, also available on Amazon.
Next, I went to the
Harper's Bazaar
website to see what the magazine's online content looks like. The site has a number of links to
Fashion Advice for Every Age
, including
hairstyles by the decade
and
fashions pieces for every age
. Some of the suggestions here are definitely forward-thinking fashion--bright colors, prints, and a few edgy designs. I like to think the magazine's fashion editors of 2011 are realizing that women over 50 aren't quite ready for the role of elder stateswomen--at least not all the time. Yes, I'm experienced, but I still want to experiment, have fun with my wardrobe.
One last thing about the magazine's website...
Harper's Bazaar
would like to invite you to enter its
Fabulous at Every Age Contest: 2011
. Find out all about it on the website.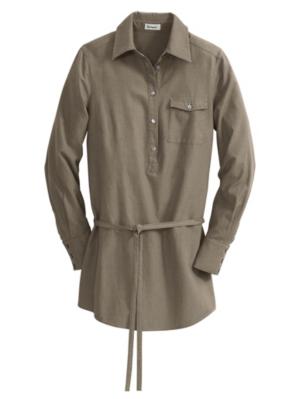 While I love to look at the beautiful clothes in magazines like
Bazaar, Vogue, Elle
and even
More
, those fashions are, by and large,
way
beyond my clothing allowance. I love quality clothing as much as the next person, but I can't afford a $1,200 purse or a $675 dress. When I have that kind of money kicking around, I take a mini-vacation. This blog is for women who, like me, don't have personal shoppers, but still want to look their best. Hessnatur clothing is exactly what
Harper's Bazaar
Great Style
recommends for women over 50: quality and basic styling in mostly solid colors. The garments--made with natural fibers, like cotton, silk and cashmere--are a perfect canvas for creating your own personal style. Add a favorite print or ruffle blouse, a pencil skirt or jeans, shoes or boots, and get ready to receive compliments.
The
Silk and Cotton Shirt
pictured above is a Hessnatur design. It's been reduced from $148 to $98.
Below are a couple more Hessnatur garments currently on sale at the online site. Click on the pictures to go to the Hessnatur site for more details or more selections.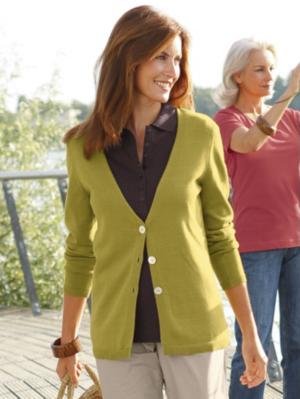 Organic Pima Cotton Cardigan
reduced from $98 to $58.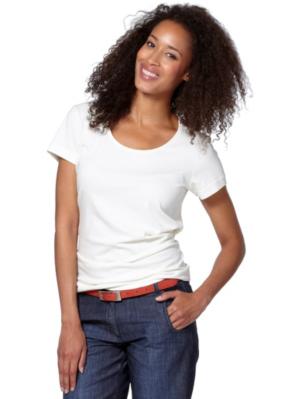 Organic Cotton Tee
for $28.
I'm going to close this post with this
Boiled Wool Motorcycle Coat
from Hessnatur. Unfortunately, it's not on sale. But I love it and think it would look smashing on a 50-something woman. It's available for $248.