Do you hate what's happening to your neck--the sagging, the wrinkling? According to a recent New York Times article entitled
Can We Feel Good About Our Necks?
, a saggy neck "betrays age like the rings on a tree." Ouch! That seems a little harsh. The good news, says the article, is that there are aging neck remedies--like liposuction and focused ultrasound--that are effective and less invasive than plastic surgery. Really? That's good news? For me, the good news is that my neck doesn't have to be my "stand out" feature. Sure, if you or someone else has a "neck fetish," your over 50 neck is going to be noticeable no matter what you do. But for most over 50 women, there are ways to keep the neck from taking center stage, such as...
HAIR STYLING
These days, over 50 hairstyles come in all different lengths. The old adage that "you'll look like a hag after 50 if your hair is long" is no longer valued. If you're comfortable with longer hair, a length around your shoulders with lots of layers is very feminine and becomes a focal point--not your neck. Check out
Hairstyles for Older Women
. A handful of the styles are shoulder length.
COLOR
Let the colors you wear--on your face and on your body--be the thing that stands out about you. Flattering colors hide all sorts of flaws and give you a look of health and energy. If you pile on too much foundation or eyeliner, I can guarantee people won't be looking at your neck. But don't do it. Instead, keep your makeup modest with flattering cheek and lip shades.
Do you know what colors flatter your skin tone? If not, you can find out at
How to Choose Colors to Flatter Your Skin Tone
. Or try the 2-step quiz at
ColorMeBeautiful
. (Note: when people talk about the color groups, they refer to them as "seasons.") On those "I feel bad about my neck" days, be sure to wear a top in a flattering color. People will notice how good you look, but they won't know why. They'll be looking at how the flattering color makes you radiate and not at your neck. If purple is a flattering color for you, check out the
Jones New York Zip Front Jacket (Purple)
below. This jacket is my Fashion Over 50: Pick of the Day for three reasons: 1) it's a gorgeous color, 2) it's got a stand-up collar, which hides the neck a little (if you don't tilt your head back like the model in the pic), and 3) it's reduced from $149 to $103.99 with an additional 30% off at checkout.
CLOTHING
The great thing about winter is that there are tons of stylish scarves, turtlenecks and stand-up collars like the one above that will hide your neck away. The
SHIRRED TURTLENECK-XL-BLACK, LT. GREY, CREAM
at the top of this post is $78 at Max Studio. Being a New England girl, I grew up wearing turtlenecks all winter. But, sadly, I have little pesky jowls now that appear when my face relaxes. Tight turtlenecks seem to draw attention to them, so I prefer sweaters with stand-up collars and loosely tied scarves these days.
Right now you'll find lots of scarves, turtlenecks and stand-up collar tops on sale.
Max Studio
has several stylish turtle and mock necks on sale. Here's a few more...

COWLNECK PULLOVER SWEATER-ASST-OFF WHITE/SILVER
reduced $118 to $55.

TURTLE NECK PATCH POCKET LONG-L-CHARCOAL
reduced from $118 to $55.

LONG RAGLAN SLEEVE SWEATER-M-HEATHER OATMEAL
reduced from $228 to $68.
Hessnatur specializes in all natural yarns and fabrics. It's garments on sale include this
Pure Wool Tweeded Turtleneck
on sale for $78...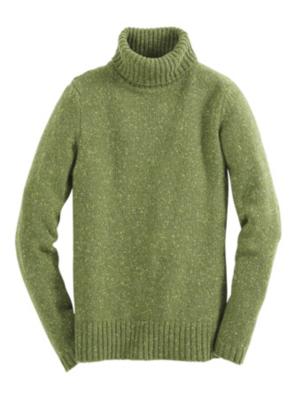 Jones New York
has many, many sweaters, jackets and blouses with turtle or mock necks as well as stand up collars. I love quilted vests like this
Jones New York Snap Front Quilted Vest (White)
reduced from $69 to $47.99 with an additional 30% off at checkout.
For more Jones styles, click on the Jones New York promotional link in the left-hand column of this blog.
Or check out some of the other clothing designers and makers who are having huge sales right now. For easy searching of online sales, check out my last post,
Fashion Over 50: On Sale Everywhere
.