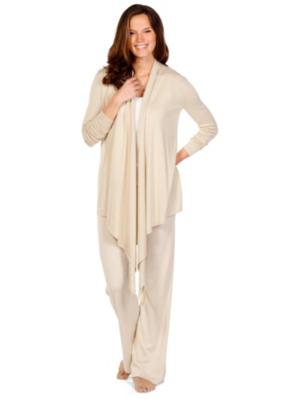 Years ago, my eldest son, who loved to make pronouncements in high school, declared: "My definition of a really good day is one when I don't have to get out of my pajamas all day!" At the time, he was playing winter and spring sports that held practices six days a week. He appreciated the rare occasion when he could lounge in his pajamas—all day. (The last time I spent the entire day in my pajamas was the week after I gave birth to both my boys. But I don't remember lounging.) These days, I can't wait to peel off my work clothes and slip into a super soft cotton jersey top and pants. Ah! Fashion experts often tell us how many shirts, blazers, skirts, dresses and jeans we need to complete the perfect wardrobes. However, they forget: Loungewear is a "must" for the over 50 woman's wardrobe.
I love to experience life as much as the next person. But I think it's equally important to regularly stop in my tracks and lounge, taking the time to reflect on my experiences, think and dream. Successful lounging, however, requires the right clothing. Jeans, for instance, are not loungewear. I want garments that are soft and loose—pajama-like. I tend to lounge more in wintertime, when the weather is cold and messy. During a recent "snow day"—when there was nothing to do, but lounge—I perused loungewear online. I'm happy to report I found lots of lounging garments in a range of prices, including bargain loungewear...
TOPS
Pima cotton is my current favorite lounging fabric. It's so buttery soft.
Hessnatur has Organic Pima Cotton Tees currently on sale for $18.
What a steal! Click on the picture below, which will take you to a Pima Cotton Tee that's not on sale. Then, click on the
Sale
tab at the top of the page. You'll find the $18 Pima Tees in that Sale section.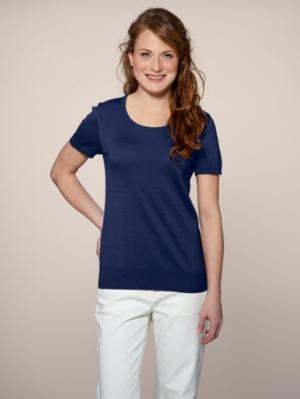 Or...this
LONG SLEEVE TEE-M-BROWN
reduced from $58 to $38 at
Max Studio
. It's also made of lovely, lightweight Pima cotton and comes in 4 colors.
BOTTOMS
The bottoms pictured at the top of the post are
Silk and Cashmere Pant
from
Hessnatur
. Silk and cashmere--is there a softer combination in this world? These bottoms, priced at $108, are available in three shades. Below the same pants are pictured in a different shade.
I hesitate to post these
Organic Cotton Velour Pants
for $65 from Hessnatur. I know velour is a bit clique. But I love velour's velvety feel and it's a lifesaver in my drafty 1908 house.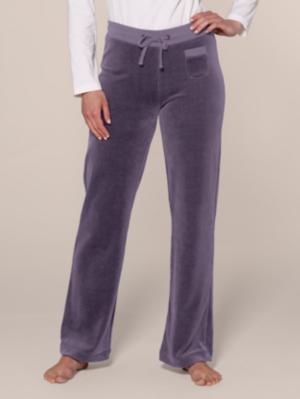 The only terrycloth I've ever worn was the robes that some of the nice hotels I used to stay in for work left in the room. However, the
Michael Stars French Terry Relaxed Drawstring Pant
below look pretty comfortable. The pants, reduced from $98 to $58.80, come in two shades.
AN EXTRA LAYER
The only negative to lounging is that the inactivity usually makes me cold. So I invariably need an extra layer. The lovely
Silk and Cashmere Cardigan
at the top of this post is available for $98 from Hessnatur. The sweater comes in three shades.
I hesitate to post these next few garments, but I will because I love them. Let me explain. Lounging isn't about looking good; it's about being comfortable. Hence, I don't think about jewelry when I'm dressing to relax. But sometimes (all the time in winter!) I need to layer up. This
Jones New York 3/4 Sleeve Open Cardigan (Black)
reduced from $79 to $46.99 is a great "easy layer." I also realize that there are times--for instance, a weekend at the beach with friends--when I'm relaxing with other people. Even with friends, I probably wouldn't wear jewelry. But the photo below shows that a little jewelry helps you dress comfortably and look nice.
I admit it: I love velour for an extra layer. I have a Michael Kors hooded velour jacket and I wear it constantly in winter. I don't, however, wear a velour matching top and bottoms--that's just a little too much. Below is
Organic Cotton Velour Pullover
for $58 from Hessnatur. It's available in rich, relaxing lavender and plum.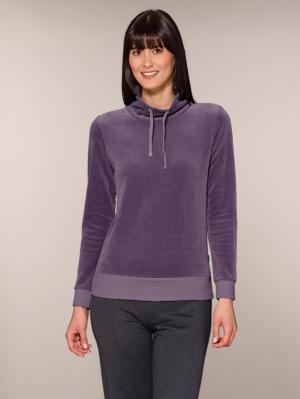 And...
Organic Cotton Velour Jacket
for $78.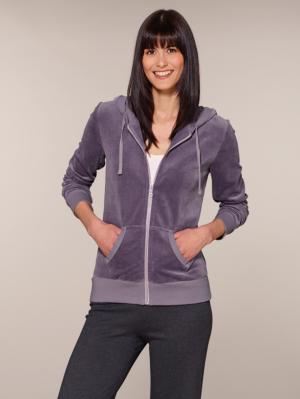 Looking for something long and cozy? This
LONG CABLE CARDIGAN SWEATER-M-HEATHER CHARCOAL
is made of warm, soft wool and acrylic yarn. It's been reduced from $148 to $98 from Max Studio.
Or...perhaps, an extra layer with shorter sleeves. This
HEATHERED COTTON COCOON CARDIGAN-M-L-HEATHER BROWN
, also from Max Studio, is made of a lightweight cotton. It also be reduced from $98 to $68.
Michael Stars has two slub knit garments. There's the
Michael Stars Cotton Slub Button Front Cardigan
reduced from $128 to $51.20.
Or...this
Michael Stars Cotton Slub Button Front Vest
marked down from $98 to $49.
LOW-COST LOUNGING
When it comes to loungewear, I don't mind spending a little more. My loungewear doesn't need to stand up to a lot of wear and tear--because I'm lounging. Consequently, individual pieces seem to last a long time. If, however, you'd rather save your clothing allowance for more "high profile" pieces for work and going out, there's very nice cotton loungewear at the
Gap
. Click on
Gap Loungewear
. Many pieces are on sale now and
there are extra savings for online shoppers
. Or for even better value, go to
Lounge and Sleep
at
Old Navy
. Don't be alarmed my the shorts at the top of the page. Scrolled down for cozy cotton tops and bottoms better suited for over 50 women. Lots of colors and styles, tops and bottoms, are on sale right now.
Target
doesn't have a Loungewear link. But if you click on
Sleepwear
, you'll find cotton tops and drawstring, loose-fitting sleep/lounge pants.