It's safe to say my wardrobe hasn't been without a striped jersey in three decades. I can't think of another fashion style I have been as faithful to. If I had to wager a guess, I would say my love of striped jerseys stems from the story about Coco Chanel. Apparently, the designer loved the French sailor shirt and turned it into high fashion. Like many women, I admire the French aesthetic. Even a modern design, like the
Michael Stars Riviera Stripe Elbow Sleeve Scoop Tee
above, is ooh-la-la to me. And I love that the clean, simple lines are so easy to match with all my monotone sweaters, slacks and skirts. Since striped garments and accessories are EVERYwhere this spring, I predict I'll be adding at least one new striped tee to my wardrobe.
No one needs my help finding striped jerseys and tees. This spring, women will have to close their eyes to miss the striped fashions at their favorite online or on site shopping destinations. For this post, I'm just going to show some of the trendy designs. I've included both updated designs, like the loose-fitting one ($58) from Michael Stars above, and classic designs, like French-style jersey shown just below. I've also included a range of prices, from $98 (for a silk top) to $19.20. Click on any of the pictures for further information or to see other striped garments.
This
Striped Boat Neck Sweater
, currently reduced from $98 to $78.40, is made of a cotton and cashmere. It's a
Pure Collection
design and comes in the white/heather denim stripes shown here as well as white/heather stone stripes and white/navy stripes.
STRIKING STRIPES
Our home economics teachers or, perhaps, a teenage fashion magazine like
Glamor
or
Seventeen
, taught us long, long ago that horizontal stripes make the female figure look wider. That might be true with wide striped dresses and pants but it's not necessarily true with tops. There are ways to limit the widening effects of striped tops. One way is to wear thin stripes like the Pure Collection jersey above or the
Jones New York 3/4 Sleeve V-Neck Top (Pattern)
($29) below. I love this top's V-Neck and 3/4 sleeves are a great choice for just about every over 50 woman.
Another way to limit the widening effects of horizontal strip is to wear a top that falls just below the hips. It makes the torso look longer, less boxy. Even the
Silk Tee
($98) from
Hessnatur
below, with slightly wider horizontal stripes, benefits from a slightly longer length.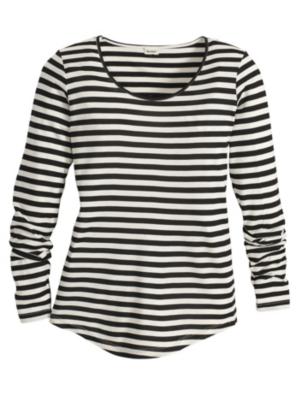 Another tip: If the darker stripe is wider than the lighter one, it should balance the effect of horizontal stripes. I'm absolutely loving this
Organic Cotton Tee
($35) from Hessnatur in trendy brown.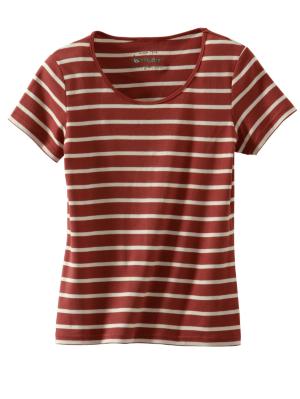 Some of the designs this spring beg the widening effect with diagonal stripes. Or, perhaps, they'll have a combination of horizontal and diagonal stripes, like this ultra-feminine
Michael Stars Riviera Stripe Sleeveless Drape Neck Top
for $54. I know the fashion magazines tell us that over 50 women shouldn't go sleeveless, but that's just crazy talk when its 90 degrees out.
And last, but not least...here are two striped T-shirts from
Bealls
. Throw on a striped tee like one of these and a white denim skirt and enjoy the spring!
Paradise Shores™ Short Sleeve Stripe T-Shirt
, currently reduced from $32 to $22.40 (30% off)
IZOD� Short Sleeve Stripe Pique V-neck T-Shirt
, currently reduced from $32 to $19.20 (40% off)