Spring Two-Tones
by
flattering50
featuring a
jeffrey campbell oxford
Last night I was in the city with a group of my husband's college friends and their wives. One of the people in our group was a woman I called "Justine" in a previous blog post,
Begging For Leggings
. In that other post, I mentioned Justine because I wanted to discourage over 50 women from imitating an outfit I'd seen her wear. For this post, I want to share how fantastic Justine looked in a pair of gorgeous two-tone oxfords last night. The minute I saw them, I thought: "What a fabulous shoe for women over 50!" Most over 50 women I know can't wear heels all the time and many can't wear them at all. Personally, I get so tired of the same old flats styles. Two-tone oxfords, like the ones at the top of this post, are a welcomed alternative.
HOW TO STYLE TWO TONE SHOES
I've seen a lot of two-tone oxfords--in a wide variety of colors combos--in the fashion magazine's spring preview issues and around the web. And I'll admit I assumed the classic shoe would work best with a classic pair of trousers. But Justine showed me how wrong I was! She wore her two-tone shoes with a simple, white, V-neck, cable sweater and black skinny jeans. The combination of classic shoes and updated jeans created a simple yet slightly edgy look--perfect for over 50 women. And, by the way, her only jewelry was a pair of big gold hoops, which looked great with her long, brunette hair.
Justine is slim, statuesque and physically toned (she goes to the gym regularly), so she can pull off skinny jeans. If like me, your legs aren't your best feature, you might want to try two-tone shoes with a long, gray or bright-colored sweater/blazer over a fitted black jeans.
Personally, I'm loving the clean, contrasting look of the black and white oxfords. To find out more about the shoes pictured above, click on the photo. But, perhaps, you're already thinking about what to wear with your trendy neutral--white or nude--fashions. These
J Shoes Jazzy Jazz Flats, Lace-Ups Women Peanut/Brown
($156) from
Planet Shoes
might look smashing with neutral color pants.

NOT READY FOR TWO TONES?
If you like the idea of wearing a man-styled shoe with slacks for a change of pace, but aren't quite ready for a two-tone wing-tipped or oxford shoes, there are plenty of man-styled shoes in a variety of solid colors. The
Nicole Kindle Flats, Lace-Ups Women Dark Brown
below are a classic style, priced at $89.


Steve Madden
takes the classic styling and offers it in spring's trendy neutrals.
Now until March 27th,
Steve Madden is offering 30% off on new spring arrivals. Click on the promo box at the top left of this post to see the selection and take advantage of the sale.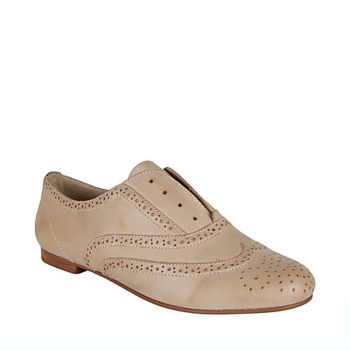 Perhaps, you're not quite ready for a classic man-styled shoe? Here's a design that takes the classic flat and transforms it into something feminine and really unique. This
DAYDREEM NATURAL
shoe has been reduced from $69 to $48.96. It's available in three colors.